Football Facts & Figures
Almost everything you might want to know about
Premiership and Football League clubs
and the competitions they have played in


The Clubs
A season-by-season summary for each of the 136 clubs who have played in the
Premier & Football Leagues giving details of League record and round reached
in the F.A. Cup and League Cup.
Then click down to League tables and playing record for each season.

The Premier League and Football League
The champions of each division since the 1888/89 season, then click down to
League tables and seasons' results for each club.

The F.A. Cup
All the F.A. Cup Finals since 1871/72, then click down to results by season.

The League Cup
(includes Worthington Cup, Coca Cola Cup etc)
All the League Cup Finals since 1960/61, then click down to results by season.

European Club Competitions

League clubs results in Europe
Every result of Premiership/Football League clubs who have
played in European competition on a club-by club,
season-by-season basis

Champions League/European Cup
Europa League/UEFA Cup
European Cup Winners Cup
All the finals of the major European competitions since their formation, then click down
to results by season.

FIFA World Club Championships
European Super Cup

Miscellaneous

Community/Charity Shield (results, venues, teams etc)

Football Writers' Association Footballer of the Year
PFA Player of the Year
Premier League Manager of the Season
LMA Manager of the Year
France Football European Footballer of the Year
FIFA Ballon d'Or World Player of the Year
BBC Sports Personality of the Year

Colemanballs
Some hilarious 'foot-in-mouth' football quotes.

Did You Know...
Football has a million and one stories and just as
many facts and figures.
Here are a few of them - the record-breaking, unusual and bizarre.

Football Day by Day
Football is a 365 day a year game.
A reminder of some of the famous, record-breaking or bizarre things that have happened
Day by Day over the years.

Front Page Pictures

For past PHOTOGRAPHS - Football Grounds - Players, Managers, Fans - Team Groups
April 27th 2017 and the Airware Stand at the former Nene Park home of Rushden & Diamonds
is no more than a pile of rubble. The dream that was the smallest town ever to host League
football has now long gone. Sadly.
* * * * *
Tom Finney addressing the crowd at Deepdale after playing his last match for Preston –
against Luton Town on 30th April 1960. Looks a bit precarious doesn't it – I think that there
would be a few health and safety issues if he gave a speech standing on that table today!

Finney was born in 1922 and left school at 14 to join the family plumbing business – his later nickname was the 'Preston Plumber'. His footballing career was delayed by the Second World
with his League debut coming on August 31st 1946 when it took him just 18 minutes to score for Preston in the 3-2 victory over Leeds at Deepdale. By the time he made his final League
appearance in 1960 he had played in 473 league and cup matches, scoring 210 goals.
Every one of those appearances was for Preston although he did come out of retirement at the
age of 41 in 1963 to play for Distillery of Belfast against Eusebio's Benfica in a European Cup tie.
Just a month after making his League debut Tom Finney played his first match for England,
scoring in England's 7-2 victory away to Northern Ireland. He went on to play 76 times for
England and his 30 England goals was a record at the time.

He was the first player to win the Footballer of the Year award twice and many still regard him
as the best player England has produced. Yet he later estimated how much he had earned
from football during his entire career – less than £15,000. He became Sir Tom in 1998 and
died in 2014 aged 91.
* * * * *
The Watford Juniors of season 1972/73. Well they had the haircuts but did they have the
footballing ability I wonder? I'm guessing they would have been the regulars in Watford's
South East Counties League teams but both their Division 1 and Division 2 sides in that
competition finished near the foot of the table. Did any of them make the grade?
Steve Hodge rings a bell but he's not the one who later played for Forest etc.
(left to right)
Back Row: Wally Fielding (Youth Team manager), Peter Caines, Steve Hodge,
Andy Chapman, Dave Owensworth, John Watt, Guy Bristow, Graham Parkins,
Jimmy Walsh;

Front Row: Mick Gattin, Keith Mercer, Gary Johnson, Paul Lake.
* * * * *
Tony Harding heading Barnet's second goal in their 2-0 FA Amateur Cup Semi-Final replay
victory over Walthamstow Avenue in 1959. The match was played at what looks like a full
White Hart Lane with the drawn semi having been played at Arsenal's Highbury ground - but
Barnet were beaten by Crook Town at Wembley in the final.

The FA Amateur Cup had been the only nationwide non-league cup competition from 1893
to the 1969-70 season (some of the Wembley finals had 100,000 attendances) when the
FA Trophy was introduced for the professional non-leaguers. With the ending of the amateur
status in football the last Amateur Cup final was played in 1973/74 with the FA Vase being introduced the following season with the stronger non-league sides entering the Trophy and the smaller clubs the Vase.
* * * * *
Now that's what I call a bus trip! Fans on their way to the first Wembley FA Cup final between
Bolton and West Ham in 1923.
* * * * *
West Ham United's Upton Park - sorry Boleyn Ground - after it had been hit by a
flying bomb in August 1944. On the left of the picture is the
South Bank, on the right is St John's Church and at the back is the Odeon Cinema
in the Barking Road. The ground was closed until 2nd December 1944 during
which time West Ham played 14 War League matches away from home
* * * * *
The story behind the programme....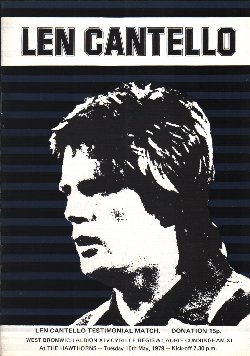 The Len Cantello testimonial match at The Hawthorns on Tuesday 15th May 1979. For those
of us who watched the thought-provoking BBC 2 programme presented by Adrian Chiles
Whites v Blacks: How Football Changed a Nation you might think that the match-day
programme would be dominated by an anti-racism theme and the justification behind the
makeup of the opposing teams. Not so. As you might expect with a testimonial the 12-page programme was all about Len Cantello who had started at The Hawthorns as an apprentice
in 1967 and by 1979 had made 298 League appearances for the club. Career notes,
playing stats and comments from football writers and players made up the normal
testimonial offering. No mention of Blacks v Whites although in his notes Len Cantello
does touch on the fact that it was obviously a sensitive subject: 'Tonight's main match is
one that has been applauded by many people and I do not intend to be drawn into the
political arena regarding the finer points. It has, and always has been, nothing more
than a football match and I am sure the fans will enjoy every moment.'
The All Blacks won 3-2 and 7,023 were present to see it.
* * * * *
Link - Previous Front Page Pictures
Please Note:
This site isn't complete. Given the rich history of football in this country alone it probably never will be!
My intention is to base this site on the Football League clubs and provide information t
hat is comprehensive, interesting and accurate. Already the site consists of over 3200 pages
and new pages are being added on a very regular basis so if the info you are after is not listed now it hopefully will be soon.