Football Facts & Figures
Almost everything you might want to know about
Premiership and Football League clubs
and the competitions they have played in


The Clubs
A season-by-season summary for each of the 136 clubs who have played in the
Premier & Football Leagues giving details of League record and round reached
in the F.A. Cup and League Cup.
Then click down to League tables and playing record for each season.
The Premier League and Football League
The champions of each division since the 1888/89 season, then click down to
League tables and seasons' results for each club.
The F.A. Cup
All the F.A. Cup Finals since 1871/72, then click down to results by season.
The League Cup
(includes Worthington Cup, Coca Cola Cup etc)
All the League Cup Finals since 1960/61, then click down to results by season.
European Club Competitions

League clubs results in Europe
Every result of Premiership/Football League clubs who have
played in European competition on a club-by club,
season-by-season basis

Champions League/European Cup
Europa League/UEFA Cup
European Cup Winners Cup
All the finals of the major European competitions since their formation, then click down
to results by season.
FIFA World Club Championships
European Super Cup
Miscellaneous

Community/Charity Shield (results, venues, teams etc)

Football Writers' Association Footballer of the Year
PFA Player of the Year
Premier League Manager of the Season
LMA Manager of the Year
France Football European Footballer of the Year
FIFA Ballon d'Or World Player of the Year
BBC Sports Personality of the Year
Colemanballs
Some hilarious 'foot-in-mouth' football quotes.

Did You Know...
Football has a million and one stories and just as
many facts and figures.
Here are a few of them - the record-breaking, unusual and bizarre.
Football Day by Day
Football is a 365 day a year game.
A reminder of some of the famous, record-breaking or bizarre things that have happened
Day by Day over the years.
Front Page Pictures
For past PHOTOGRAPHS -
Football Grounds - Players, Managers, Fans - Team Groups
Hull City in action in their Division 3 (North) match against Carlisle United in March 1958. It's a bit before my time - I well remember the floodlights at their former Boothferry Park ground but my memories are a tad later when they had six huge floodlight pylons at least one of which was behind a stand. I'm guessing they changed from one unusual floodlight set-up (pictured) to the unusual array I remember when a stand was rebuilt. When would that have been?
* * * * *
Well this is a sight we will never see in England again - a massed bank of thousands of supporters...watching a friendly would you believe! It was at Hillsborough on February 23rd 1972 when Sheffield Wednesday entertained Santos of Brazil who included in their ranks their star player, Pele. Amazingly the match kicked off at 2.30 on a Wednesday afternoon as a miners strike had resulted in power restrictions which prevented the use of floodlights. Even so the attendance was 36,996 who most Sheffield schools having truancy problems on that Wednesday! Santos - who had also played a friendly at Hillsborough ten years earlier - won 2-0 with Wednesday player Tommy Craig sticking rigidly to Pele in the last few minutes of the match - so that he could get the great man's shirt at the final whistle!
* * * * *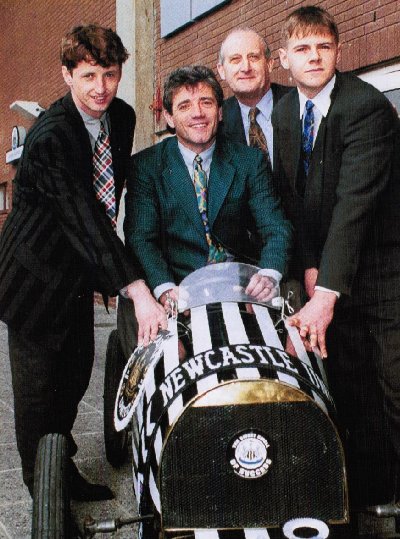 Superstars never seem to be parted from their supercars...even when they move on to management! Back in the 1990s Newcastle United manager Kevin poses in this top-of-the-range sports car when welcoming two new players to St James' Park with club chairman Sir John Hall. And to be fair it was a brilliant bit of motivational thinking. Right at the start show new players what sort of car they will be able to buy if they are successful at the club and success will surely follow. And it did - in his four seasons as manager of Newcastle in the Premier League in the 1990s they finished in the top 6 in each season.
* * * * *
Don't they look young! Two pictures pinched from a Bournemouth programme from 1991 when Harry Redknapp was manager and Tony Pulis was first team coach at the south coast club. It was 'Arry's first stint as a manager and in the quarter of a century or so since he has been in the hot seat at West Ham, Portsmouth (twice), Southampton, Spurs, QPR and Birmingham. Harry Redknapp became manager of Bournemouth in October 1983 and survived until the end of the 1991/92 season when Tony Pulis took over for his first managerial job. Then followed spells at Gillingham, Bristol City, Portsmouth, Stoke (twice), Plymouth, Crystal Palace, West Brom and Middlesbrough!
That lot is enough to age any manager!!
* * * * *
I was looking through an old Torquay United programme the other day - 1992 vintage - and was surprised to see a picture of their manager, Ivan Golac, in a sponsored car with his name on it. I can't see Jose or Arsene putting up with that can you! I must admit a manager having his name on a car isn't the best of security measures either. And the way that managers come and go would mean that the door would need a respray after not too long. That was the case with Ivan Golac at Plainmoor - Torquay were relegated at the end of the 1991/92 season and that ended his spell on the south coast, after just 19 matches in charge. Yugoslav Ivan Golac is probably best remembered as a popular player in his two spells at Southampton while as a manager things looked up for him after leaving Torquay when he moved north to boss Dundee United.
* * * * *
Well, you wouldn't see a picture like that in one of the newly built football grounds would you. Watching a match from your own front garden would be an impossibility in one of those and I'm guessing sitting on top of a hut would break every health and safety rule known to man. The picture is of the Goldstone Ground which was home to Brighton & Hove throughout their League history until it was controversially closed and was sold in 1997. Brighton then had to ground-share with Gillingham and play at the Withdean Stadium in Brighton before finally getting a new home - the Amex Stadium - in 2011. The picture was taken in the 1982/83 season, their final season in their first stint in the top flight. They were in financial trouble and found it hard to attract break-even crowds of 16,500 so over Christmas and New Year they reduced their admission price from the normal £2.50 to £2 for the fixtures against Southampton (21,794), Watford (15,139) and Nottingham Forest (10,402). Or you could have watched it from your garden!
* * * * *
Coventry City 1972/73. After finishing just above a relegation spot in 18th place in 1971/72 Coventry brought a new management team to Highfield Road to help change their fortunes. Joe Mercer was appointed general manager and Gordon Milne became team manager - Mercer had moved from Manchester City when he realised his days were numbered there after losing his office and parking space at Maine Road! The new management team planned to move away from the defensive emphasis of previous manager Noel Cantwell but Coventry scored fewer goals and finished the season just above a relegation spot - in 19th place!
(left to right)
Back Row: Ernie Hunt, Ernie Machin, Bobby Graham.
Middle Row: Gordon Milne (Team Manager), Chris Cattlin, Roy Barry, Bill Glazier,
Wilf Smith, Jeff Blockley, Tommy Casey (coach).

Front Row: Dennis Mortimer, Mick Coop, Joe Mercer (General Manager), Willie Carr, Quintin Young.
* * * * *
I was at a live televised match the other day and I was surprised to see somebody sitting near me watching the match on his device rather than what was going on in front of him - and it wasn't as live as I thought it would be! But I must admit the technology employed in football nowadays is light years ahead of what was around when I was a tad younger with VAR being the latest addition. Going right back to the 1930s though Arsenal were way ahead of the others as far as innovation was concerned with their manager Herbert Chapman being considered one of the great forward-thinkers in the game. Their 'technology corner' of the period at Highbury is pictured. The scoreboard idea will be familiar to many with the half-time scores - and sometimes the full-time ones - being given although you did need to buy a programme to get the code for the matches being played. I've seen team changes on an electronic scoreboard but I'm guessing on Arsenal's manual one that it was perhaps using players numbers from the programme again. Can anyone help with that one? Its the clock that has become iconic at Arsenal. It's the original clock pictured - that was a 45 minute count-down clock but that had to be scraped as FA considered that it undermined the match officials. A standard clock replaced it and the rest, as they say, is what history is made of!
* * * * *
You just know that is a goalkeeper who wanted to be at home in a hot bath! Look at the state of that pitch and rest assured that the rain that caused that mess would be descending on fans standing on the uncovered terraces as well as the players. And there would have been quite a few of those fans as the picture is of Billy Mercer in 1925 when his team Huddersfield Town dominated the English Football scene. Billy Mercer played 48 times for Huddersfield when they became the first club to win a hat-trick of League championships in 1923/24, 1924/25 and 1925/26. Previously he has spent 10 years at Hull City where he made 193 League outings.
* * * * *
Following on from the previous picture this was the Vicarage Road Recreation Ground soon after it had been transformed into Watford FCs Vicarage Road Ground. The picture has been taken from a similar position although this time the famous allotments are in view to the right. Watford played their first match at the ground in 1922 with this picture being taken around 10 years after that. As with most grounds of the era it was very much one for the standing fan with stands - or indeed any covered area - being very absent. Also absent is the penalty 'D' marking on the pitch which wasn't introduced until 1937.
* * * * *
When Watford outgrew their Cassio Road ground they moved to a new home on the site of the Vicarage Road Recreation ground, pictured above. In proved a perfect site for the new ground which was bordered by houses, an old Workhouse on the site of a hospital and a steam laundry housed in a former silk mill. The famous allotments are out of sight on the right hand side of the picture. The slope on the left hand side of the site was well used by kids as a slide - on sledges in the snow and tin trays at other times - and was perfectly suited for the terracing which took its place when the ground was constructed. The Vicarage Road ground was opened in a match against Millwall on 30th August 1922.
* * * * *
Dedicated - and presumably bloody cold!
* * * * *
Long before computers came along mistakes were still made on the scoreboards - this one being at Loftus Road on 27th January 1973. Even the most optimistic Burnley fan wouldn't have expected to be 9-1 up after a little more than a quarter of an hour of the Saturday afternoon match. In fact it was Queens Park Rangers who recorded a famous victory that day. Burnley and QPR were red-hot favourites to win promotion from the Second Division in 1972/73 with Burnley having lost just one of the 25 League matches they had played up to the visit to London but QPR triumphed 2-0 in front of a season-best 22,518 crowd at Loftus Road. Burnley and QPR filled the two promotion spots at the seasons' end with Burnley taking the title by a point. Aston Villa finished a distant third.
Links - Division 2 table 1972/73, Burnley results 1972/73, QPR results 1972/73
* * * * *
A 15-year-old Bobby Charlton with his mother Cissie outside their Ashington home in 1953. And, bless her, his mum was putting some effort into that header wasn't she with that being a proper leather football! Cissie was in fact a member of a famous footballing family. Uncles Jack, George, Jim and Stan Milburn were all Football League players while cousin Jackie Milburn - 'Wor Jackie' - made his name playing for Newcastle United and England. Bobby was one of four brothers. He and older brother Jack were World Cup winners of course while Gordon had an unsuccessful trial period at Leeds United when Jack was at Elland Road. Gordon Charlton left it late to show his footballing skills - it seems he became a bit of a superstar in his 60's playing walking football in Rotherham.
* * * * *


I did the tour of Craven Cottage once and still remember the warning given - don't even think of stepping on the pitch if you want to carry on living (well, something like that anyway!). So I was surprised to see pictures of Fulham's first 'Picnic on the Pitch' which took place at Craven Cottage in May 2015. OK it was after the season had ended and was held to aid season tickets sales but people are walking on the pitch and a tent has been erected on it!! I guess the ground-staff were all the given time off to avoid the event or surely there would have been palpitations all round that day. But a good idea I guess.
* * * * *
Genuinely one of my favourite football photos. Spurs are playing Manchester United in a First Division match at White Hart Lane in March 1972 but that fact seems almost unimportant. It's the two ladies walking along the touchline who seem completely oblivious to what's going on a few feet away. What on earth are they doing there? I've heard the speculation and even wondered it the picture has been doctored - but do you know why they are in the spotlight?
* * * * *
Well, I think that I've seen it all now. I had thought that the Russians would have had all the 2018 World Cup venues sorted to perfection but it seems not quite. One of the venues, the Ekaterinburg Arena which is the home of Russian Premier League side FC Ural - has a normal capacity of 27,000 but there's a 35,000 minimum requirement for matches in the World Cup finals. So the ground will have two temporary stands to extend the capacity to 45.000 - but both of them are situated OUTSIDE the normal ground. Now that's novel! I must say that it obviously won't matter to those of us watching on television but the fans who will be parting with their hard-earned to buy tickets might not be too chuffed if their seats are at the back of those temporary stands, especially if it is raining!
* * * * *
The story behind the programme....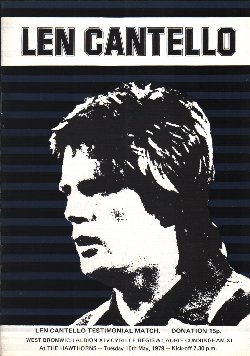 The Len Cantello testimonial match at The Hawthorns on Tuesday 15th May 1979. For those of us who watched the thought-provoking BBC 2 programme presented by Adrian Chiles Whites v Blacks: How Football Changed a Nation you might think that the match-day programme would be dominated by an anti-racism theme and the justification behind the makeup of the opposing teams. Not so. As you might expect with a testimonial the 12-page programme was all about Len Cantello who had started at The Hawthorns as an apprentice in 1967 and by 1979 had made 298 League appearances for the club. Career notes, playing stats and comments from football writers and players made up the normal testimonial offering. No mention of Blacks v Whites although in his notes Len Cantello does touch on the fact that it was obviously a sensitive subject: 'Tonight's main match is one that has been applauded by many people and I do not intend to be drawn into the political arena regarding the finer points. It has, and always has been, nothing more than a football match and I am sure the fans will enjoy every moment.'

The All Blacks won 3-2 and 7,023 were present to see it.
* * * * *
This site isn't complete. Given the rich history of football in this country alone it probably never will be! My intention is to base this site on the Football League clubs and provide information that is comprehensive, interesting and accurate. Already the site consists of over 3200 pages and new pages are being added on a very regular basis so if the info you are after is not listed now it hopefully will be soon.