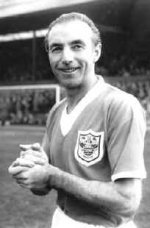 Stanley Matthews

That the first European Footballer of the Year award went to a 41-year old who played for a far from glamorous club is a testament to the regard that Europe held for the 'Master of the Dribble', Stanley Matthews.
1956 Winner: Stanley Matthews (Blackpool & England)

Sixteen representatives from the countries of Austria, Belgium, Czechoslovakia, England, France, Holland, Hungary, Italy, Portugal, Scotland, Spain, Sweden, Switzerland, Turkey, West Germany and Yugoslavia voted for the first European Footballer of the Year. Despite the fact that Europe finally knew who its best club was - Real Madrid had won the first European Cup final in June 1956 - the first award went to a man who would never kick a ball in European club competitions, Stanley Matthews.
Top 11 positions -