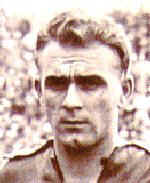 Alfredo Di Stefano

The 'Blond Arrow' became the first player to win the European Footballer of the Year title twice. He was the driving force behind Real Madrid's dominance of Europe playing in, and scoring in, each of Real's 4 EC wins to 1959. He was also to score a hat-trick in Real's 1960 victory and eventually scored a record 49 European Cup goals.

1959 Winner: Alfredo Di Stefano (Real Madrid & Spain)

Real Madrid still reigned supreme in Europe winning the European Cup for the fourth season in succession and having a player win the Ballon d'Or for the third season in a row. Last season's winner Raymond Kopa had been in the Real side that beat his former club Reims in the 1959 European Cup Final but had moved back to the French side before the results were announced in December. Not an Englishman in sight though with the only Brits getting any votes being Welshmen. John Charles, of Juventus, came in a creditable third while back in 23rd= place with a single vote was Cliff Jones of Spurs.
Top 10 placings -