SOME OF THE STORIES FROM THE HISTORY OF FOOTBALL.. . . .

ARSENAL
create a new League record by scoring in 55 consecutive League matches.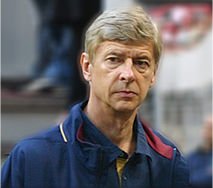 The few years around the turn of the Millennium saw a consistency in the form of Arsenal. For eight years they finished as champions or runners-up in the Premier League and starting in May 2003 they embarked on an amazing run of 49 unbeaten League matches on the trot. In that record sequence they went through the whole 2003/04 season without suffering a League reverse, the first time that had been done since the 1800s. The 49 matches. Before then, though, Arsene Wenger's side had set another record in consistency - they had scored in each of 55 consecutive matches breaking the record set by Chesterfield over 70 years previously (Chesterfield's record) From May 19th 2001 to November 30th 2002 Arsenal scored in every League match they played in. The run finally came to an end at Old Trafford with a 2-0 defeat, amazingly the same venue and same scoreline that was to end Arsenal's undefeated record a little under two years later.
The 55 matches

2000/01

Tue
May
15
Premier
Newcastle United
Away
Drew
0-0
1
Sat
May
19
Premier
Southampton
Away
Lost
2-3

2001/02

2
Sat
Aug
18
Premier
Middlesbrough
Away
Won
4-0
3
Tue
Aug
21
Premier
Leeds United
Home
Lost
1-2
4
Sat
Aug
25
Premier
Leicester City
Home
Won
4-0
5
Sat
Sep
8
Premier
Chelsea
Away
Drew
1-1
6
Sat
Sep
15
Premier
Fulham
Away
Won
3-1
7
Sat
Sep
22
Premier
Bolton Wanderers
Home
Drew
1-1
8
Sat
Sep
29
Premier
Derby County
Away
Won
2-0
9
Sat
Oct
13
Premier
Southampton
Away
Won
2-0
10
Sat
Oct
20
Premier
Blackburn Rovers
Home
Drew
3-3
11
Sat
Oct
27
Premier
Sunderland
Away
Drew
1-1
12
Sun
Nov
4
Premier
Charlton Athletic
Home
Lost
2-4
13
Sat
Nov
17
Premier
Tottenham Hotspur
Away
Drew
1-1
14
Sun
Nov
25
Premier
Manchester United
Home
Won
3-1
15
Sat
Dec
1
Premier
Ipswich Town
Away
Won
2-0
16
Sun
Dec
9
Premier
Aston Villa
Home
Won
3-2
17
Sat
Dec
15
Premier
West Ham United
Away
Drew
1-1
18
Tue
Dec
18
Premier
Newcastle United
Home
Lost
1-3
19
Sun
Dec
23
Premier
Liverpool
Away
Won
2-1
20
Wed
Dec
26
Premier
Chelsea
Home
Won
2-1
21
Sat
Dec
29
Premier
Middlesbrough
Home
Won
2-1
22
Sun
Jan
13
Premier
Liverpool
Home
Drew
1-1
23
Sun
Jan
20
Premier
Leeds United
Away
Drew
1-1
24
Wed
Jan
23
Premier
Leicester City
Away
Won
3-1
25
Wed
Jan
30
Premier
Blackburn Rovers
Away
Won
3-2
26
Sat
Feb
2
Premier
Southampton
Home
Drew
1-1
27
Sun
Feb
10
Premier
Everton
Away
Won
1-0
28
Sat
Feb
23
Premier
Fulham
Home
Won
4-1
29
Sat
Mar
2
Premier
Newcastle United
Away
Won
2-0
30
Tue
Mar
5
Premier
Derby County
Home
Won
1-0
31
Sun
Mar
17
Premier
Aston Villa
Away
Won
2-1
32
Sat
Mar
30
Premier
Sunderland
Home
Won
3-0
33
Mon
Apr
1
Premier
Charlton Athletic
Away
Won
3-0
34
Sat
Apr
6
Premier
Tottenham Hotspur
Home
Won
2-1
35
Sun
Apr
21
Premier
Ipswich Town
Home
Won
2-0
36
Wed
Apr
24
Premier
West Ham United
Home
Won
2-0
37
Mon
Apr
29
Premier
Bolton Wanderers
Away
Won
2-0
38
Wed
May
8
Premier
Manchester United
Away
Won
1-0
39
Sat
May
11
Premier
Everton
Home
Won
4-3

2002/03

40
Sun
Aug
18
Premier
Birmingham City
Home
Won
2-0
41
Sat
Aug
24
Premier
West Ham United
Away
Drew
2-2
42
Tue
Aug
27
Premier
West Bromwich A.
Home
Won
5-2
43
Sun
Sep
1
Premier
Chelsea
Away
Drew
1-1
44
Tue
Sep
10
Premier
Manchester City
Home
Won
2-1
45
Sat
Sep
14
Premier
Charlton Athletic
Away
Won
3-0
46
Sat
Sep
21
Premier
Bolton Wanderers
Home
Won
2-1
47
Sat
Sep
28
Premier
Leeds United
Away
Won
4-1
48
Sun
Oct
6
Premier
Sunderland
Home
Won
3-1
49
Sat
Oct
19
Premier
Everton
Away
Lost
1-2
50
Sat
Oct
26
Premier
Blackburn Rovers
Home
Lost
1-2
51
Sun
Nov
3
Premier
Fulham
Away
Won
1-0
52
Sat
Nov
9
Premier
Newcastle United
Home
Won
1-0
53
Sat
Nov
16
Premier
Tottenham Hotspur
Home
Won
3-0
54
Sat
Nov
23
Premier
Southampton
Away
Lost
2-3
55
Sat
Nov
30
Premier
Aston Villa
Home
Won
3-1
Sat
Dec
7
Premier
Manchester United
Away
Lost
0-2