You could never be neutral about Brian Clough - you either loved him or loathed him. But whatever your opinion of the man you couldn't take away his record as a manager. After bringing success to one unfashionable Midlands club, Derby County, he eventually arrived at another unfashionable Midlands club, Nottingham Forest, and brought them unbelievable success. He took over at the City Ground in January 1975 and led Forest to promotion from the old Second Division in 1976/77. Incredibly the 1977/78 season saw them finish as League champions but better followed when they finished as European Cup winners in the two seasons after that. In the first fifteen seasons Forest spent in the top flight under Clough only once did they finish outside the top 10 and they won the League Cup four times and were beaten FA Cup finalists once. Sadly he spent one season too long at Forest. Clough's sixteenth and final season in the top flight saw Forest relegated in the first season of the Premier League. After Clough left the club Forest returned to the relative obscurity they had occupied before he had arrived.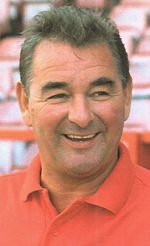 One record Nottingham Forest achieved under Brian Clough was the longest unbeaten run achieved in League matches. Don Revie's Leeds United had completed an unbeaten run of 34 League matches in 1969/70 but Cloughie's Nottingham Forest extended that record to 42 in their first two seasons back in the top flight. The record set by the likes of Frank Clark, John McGovern, Ian Bowyer, John Robertson, Martin O'Neill, Viv Anderson, Peter Withe, Tony Woodcock, Larry Lloyd and Kenny Burns lasted a quarter of a century until Arsenal set a new mark in 2004 with 49 unbeaten matches (Arsenal's record).
After the defeat against Liverpool which ended the run, Clough said 'I congratulated our lads on a magnificent run. This defeat means a light relief.' But he then added 'But we would have felt better if we hadn't lost'.
The 42 matches

1977/78
Sat
Nov
19
Division 1
Leeds United
Away
Lost
0-1
1
Sat
Nov
26
Division 1
West Bromwich A.
Home
Drew
0-0
2
Sat
Dec
3
Division 1
Birmingham City
Away
Won
2-0
3
Sat
Dec
10
Division 1
Coventry City
Home
Won
2-1
4
Sat
Dec
17
Division 1
Manchester United
Away
Won
4-0
5
Mon
Dec
26
Division 1
Liverpool
Home
Drew
1-1
6
Wed
Dec
28
Division 1
Newcastle United
Away
Won
2-0
7
Sat
Dec
31
Division 1
Bristol City
Away
Won
3-1
8
Mon
Jan
2
Division 1
Everton
Home
Drew
1-1
9
Sat
Jan
14
Division 1
Derby County
Away
Drew
0-0
10
Sat
Jan
21
Division 1
Arsenal
Home
Won
2-0
11
Sat
Feb
4
Division 1
Wolverhampton W.
Home
Won
2-0
12
Sat
Feb
25
Division 1
Norwich City
Away
Drew
3-3
13
Sat
Mar
4
Division 1
West Ham United
Home
Won
2-0
14
Tue
Mar
14
Division 1
Leicester City
Home
Won
1-0
15
Sat
Mar
25
Division 1
Newcastle United
Home
Won
2-0
16
Wed
Mar
29
Division 1
Middlesbrough
Away
Drew
2-2
17
Sat
Apr
1
Division 1
Chelsea
Home
Won
3-1
18
Wed
Apr
5
Division 1
Aston Villa
Away
Won
1-0
19
Tue
Apr
11
Division 1
Manchester City
Away
Drew
0-0
20
Sat
Apr
15
Division 1
Leeds United
Home
Drew
1-1
21
Tue
Apr
18
Division 1
Queens Park R.
Home
Won
1-0
22
Sat
Apr
22
Division 1
Coventry City
Away
Drew
0-0
23
Tue
Apr
25
Division 1
Ipswich Town
Away
Won
2-0
24
Sat
Apr
29
Division 1
Birmingham City
Home
Drew
0-0
25
Tue
May
2
Division 1
West Bromwich A.
Away
Drew
2-2
26
Thu
May
4
Division 1
Liverpool
Away
Drew
0-0
1978/79
27
Sat
Aug
19
Division 1
Tottenham Hotspur
Home
Drew
1-1
28
Tue
Aug
22
Division 1
Coventry City
Away
Drew
0-0
29
Sat
Aug
26
Division 1
Queens Park R.
Away
Drew
0-0
30
Sat
Sep
2
Division 1
West Bromwich A.
Home
Drew
0-0
31
Sat
Sep
9
Division 1
Arsenal
Home
Won
2-1
32
Sat
Sep
16
Division 1
Manchester United
Away
Drew
1-1
33
Sat
Sep
23
Division 1
Middlesbrough
Home
Drew
2-2
34
Sat
Sep
30
Division 1
Aston Villa
Away
Won
2-1
35
Sat
Oct
7
Division 1
Wolverhampton W.
Home
Won
3-1
36
Sat
Oct
14
Division 1
Bristol City
Away
Won
3-1
37
Sat
Oct
21
Division 1
Ipswich Town
Home
Won
1-0
38
Sat
Oct
28
Division 1
Southampton
Away
Drew
0-0
39
Sat
Nov
4
Division 1
Everton
Home
Drew
0-0
40
Sat
Nov
11
Division 1
Tottenham Hotspur
Away
Won
3-1
41
Sat
Nov
18
Division 1
Queens Park R.
Home
Drew
0-0
42
Sat
Nov
25
Division 1
Bolton Wanderers
Away
Won
1-0
Sat
Dec
9
Division 1
Liverpool
Away
Lost
0-2