Football On This Day – 21st April 1909
When Nottingham Forest beat Leicester Fosse (now Leicester City) in what was expected to be a keenly-fought First Division relegation battle the scoreline raised a few eyebrows - Forest won 12-0. An inquiry was held where it was found that the reason for Fosse's poor performance was that two days before the match the Leicester players had attended the wedding of team-mate Turner - and that the celebrations had continued until the early hours of the morning of the match against Forest!
Link - the full story
Football On This Day – 21st April 1930
Leicester City and Arsenal drew 6-6 at Filbert Street in a First Division fixture. That was the first time that scoreline had been recorded in the Football League and has been repeated just once since - Charlton v Middlesbrough in a Second Division match in 1960/61.
Football On This Day – 21st April 1930
Brentford beat QPR 3-0 at Griffin Park and so won all their 21 home fixtures in Division 3 (South) that season. That was the last time a club won all their home matches in a League season and although five clubs had achieved that record previously the most home matches any of those club had played was 17. Amazingly though Brentford weren't promoted!
Link - Brentford results 1929/30 and League table
Football On This Day – 21st April 1990
Player-manager Ian Bowyer and his son Gary were in the Hereford team for their Division 4 match at Scunthorpe. In was the first time a father and son had player together in the League since 1951. Gary scored his first ever League goal in the 3-3 draw while former European Cup winner Ian turned out in just one more League match before retiring from playing.
Football On This Day – 21st April 1979
World Cup winner Alan Ball completed 100 League appearances for Southampton. He was the first player to achieve this with four different clubs – the others being Blackpool, Everton and Arsenal.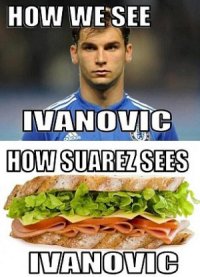 Football On This Day – 21st April 2013
When Liverpool's Luis Suárez bit Branislav Ivanović's arm in the Liverpool v Chelsea Premier League match at Anfield the comedians on the internet had a field-day. On a more serious note the Uruguayan - who had previous for the same offence while at Ajax - suffered an undisclosed club fine and a 10 game FA ban for violent conduct. And we all wondered when 'Cannibal' Suárez would strike next!