Those 9 matches...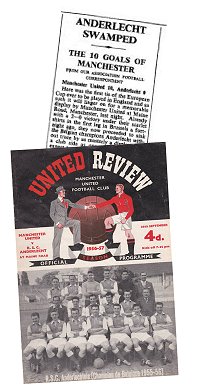 The English seemed just as reluctant to be involved in Europe in the 1950s as they are now. The European Cup made its debut in the 1955/56 and League champions Chelsea were drawn to play Djurgårdens of Sweden in the opening round of the competition. However, after strong objections from the Football League Chelsea withdrew from the competition and were replaced by the Poles of Gwardia Waraw. So the honour of becoming the first English side to play in the European Cup went to Manchester United who were drawn against the champions of Belgium, Anderlecht, in the Preliminary Round of the 1956/57 tournament. And those present at the first European Cup match played on English soil - on Wednesday 26th September 1956 at Maine Road (Old Trafford didn't have floodlights) must surely have wondered what all the fuss was about. A newspaper match report described the first half: 'After eight minutes came the first goal when Byrne sent a short volley to Pegg; the winger beat two men, found the by-line and there was Taylor to flash home a header like a bullet and send a spray of rain into the sky as the white ball hit the net. From then on it became increasingly all United and in the last 20 minutes before half-time four more goals came as United played in an ecstasy.' United's team - who had an average age of just 22 - went on to win the match 10-0 and the tie 12-0. Never again have they managed double figures in a single match in Europe.
Wednesday September 26th 1956, European Cup Preliminary Round Second Leg
Manchester United 10 Anderlecht (Belgium) 0
Attendance: 43,635 (played at Maine Road, Manchester City FC)
Team: Wood; Foulkes, Byrne; Colman, Jones, Edwards; Berry, Whelan, Taylor, Viollet, Pegg.
Goalscorers: Taylor 3, Viollet 4, Whelan 2, Berry.
*********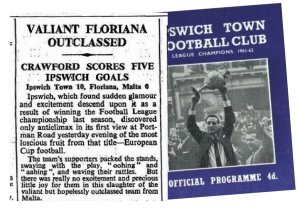 If there was a prize for the biggest shock in Football League history I think that Ipswich Town winning the League Championship in 1961/62 must surely be up there with a good shout of winning. The season before Spurs had swept all before them by becoming the first club in the 20th Century to win the League and FA Cup double. The next time round though the title went to a club from deepest Suffolk who were playing their first season in the top flight and in fact only their 17th season in the Football League. Ably managed by one Alf Ramsey and a regular supply of goals from Ray Crawford and Ted Phillips (they scored 61 of the 93 League goals netted) they took the title with three points to spare. Ipswich drew Floriana as their first European opponents and with the Maltese champions having been beaten 10-2 away to Újpesti Dózsa in the ECWC in 1961/62 they were not expected to provide too strong an opposition. Ipswich duly won 4-1 in Malta and at Portman Road Ipswich repeated what Manchester United had achieved six years earlier in their first home European tie. Ipswich won 10-0, Ray Crawford scoring five, but the Ipswich fans a little bored by the one-way traffic the biggest cheers were for Floriana who played the game in the right spirit and even had one 'goal' disallowed for offside.
It was downhill then on for Ipswich. There was no disgrace losing in the next round to AC Milan who went on to win the trophy at Wembley in 1962/63 but they finished the season just above a relegation spot. In 1963/64 though, after Alf Ramsey had moved to the England job, Ipswich were relegated and suffered a 10-goal beating of their own, against Fulham in the League (10 goals in League matches). Several years later one of the victorious Ipswich team against Floriana, Ted Phillips, managed the Maltese club.
Tuesday September 25th 1962
, European Cup Preliminary Round Second Leg
Ipswich Town 10 Floriana (Malta) 0
Attendance: 25,287
Team: Bailey; Compton, Baxter, Elsworthy, Stephenson, Moran, Crawford, Phillips, Malcolm, Blackwood, Laurel.
Goalscorers: Crawford 5, Moran 2, Phillips 2, Elsworthy.
*********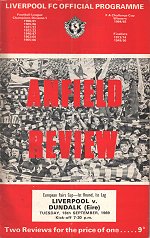 Sometimes managers do get it dead right and perhaps wished they hadn't! Before this European Fairs Cup match Dundalk's manager Liam Tuohy said that there was a ten goal difference in class between the two teams. And so it proved. The opening goal came in the first minute, from Alun Evans, and others followed steadily. Chris Lawler, Tommy Smith, Bobby Graham and Evans again made it 5-0 at half time and another five followed in the second half through Alec Lindsay (on his first team debut), Tommy Smith, Peter Thompson, Ian Callaghan and Bobby Graham. No-one would have argued with the report in the Liverpool Echo which said 'Dundalk were hopelessly outclassed, out-paced, in fact out-everythinged. It wasn't so much a football match as an exhibition of torture by Liverpool.'
Until Strømsgodset came visiting five years later that victory was to be Liverpool's record score and the match was also notable as Gerard Houllier's first first visit to Anfield. Liverpool scored another four, without replay, in the second leg but must have wished they had kept just one of those 14 goals for the second round where they lost to Vitória Setúbal of Portugal on the away goals rule.
Tuesday September 16th 1969, European Fairs Cup First Round First Leg
Liverpool 10 Dundalk (Republic of Ireland) 0
Attendance: 32,656
Team: Clemence; Lawler, Strong, Smith, Yeats, Hughes, Callaghan, Graham, Lindsay, Evans, Thompson.
Goalscorers: Evans 2, Lawler, Smith 2, Graham 2, Lindsay, Thompson, Callaghan.
*********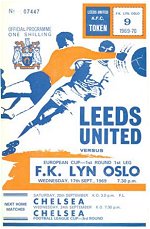 Leeds United came close to scoring double figures in a European match in the 1967/68 season when up against Spora Luxembourg in the Fairs Cup. After winning 9-0 in Luxembourg - still the best away victory by a League side in European competition and then a record high score for Leeds - they 'only' managed a 7-0 win at Elland Road. However in September 1969, the day after Liverpool had scored 10 in a Fairs Cup match, Leeds finally scored 10 goals of their own in their first ever match in the European Cup.The Norwegian champions Lyn Oslo had not been expected to provide tough opposition and after just 35 seconds that became apparent with Mike O'Grady scoring the first for Leeds. The Lyn goalkeeper Sven Olsen had only arrived at Elland Road half an hour before kick off and must have wondered if he should have turned up at all - it was 3-0 after nine minutes, 5-0 at half times and 9-0 after 65 minutes. Then Leeds had an anxious wait before they reached double-figures and with just a couple of minutes remaining Billy Bremner scoring the tenth and set a new goalscoring record for the League champions.

Wednesday September 17th 1969, European Cup First Round First Leg
Leeds United 10 Lyn Oslo (Norway) 0
Attendance: 25,979
Team: Sprake; Reaney, Cooper, Bremner, Charlton, Hunter, Madeley, Clarke, Jones, Giles (sub: Bates), O'Grady.
Goalscorers: O'Grady, Jones 3, Clarke 2, Giles 2, Bremner 2
*********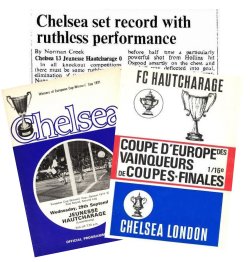 To play only two matches in European competition and still set records is a bit of an achievement, sadly for
Jeunesse Hautcharage it's not something they will want to remember. Unexpected winners of the Luxembourg Cup in 1970/71 they were drawn against Chelsea in the first round of the 1971/72 European Cup Winners' Cup. Perhaps in 1971 the Londoners weren't the accomplished European maestros they later became but then they didn't need to be against Jeunesse. Away from home they won 8-0 and then at Stamford Bridge they recorded the Daddy of all scorelines recorded by League clubs in European competitions - 13-0.
Two goals came from Peter Osgood in the first six minutes. After 13 minutes it was 4-0 with goals from Alan Hudson and John Hollins, a penalty, and it was 5-0 in the 22nd minute following a clever back-header from David Webb. Then followed a quiet period until a deflection off Peter Osgood made it 6-0 at the interval. A cut eye saw Jeunesse 'keeper Lucien Fusulier receive three stitches during the interval but there were no goals in the first 15 minutes of the second half. Then Tommy Baldwin scored from a 20-yard shot followed two minutes later by another from Peter Osgood and then followed another from Baldwin. A big cheer went up for Chelsea goalkeeper Peter Bonetti when he touched the ball for the first time in the second half in the 75th minute. Peter Houseman made it 10-0, Osgood's fifth was 11-0, Tommy Baldwin's hat-trick was 12-0 with lucky 13 for Chelsea being scored by Ron Harris.
The records? Thirteen goals is Chelsea's top score in a competitive match and the aggregate of 21-0 is a record for any European competition, although it was equalled by Feyenoord the following season. But it was not a record high for a single European match - that was recorded by Sporting Lisbon in 1963/64 with a 16-0 UEFA Cup home victory over another Luxembourg side, US Rumelange. The Belgians only managing two in the away leg.


Wednesday September 29th 1971, European Cup Winners Cup First Round Second Leg
Chelsea 13 Jeunesse Hautcharage
(Luxembourg) 0
Attendance: 27,621
Team: Bonetti, Boyle, Harris, Hollins, Webb, Hinton, Cooke, Baldwin, Osgood, Hudson, Houseman.
Goalscorers: Osgood 5, Hudson, Webb, Baldwin 3, Houseman, Hollins, Harris
*********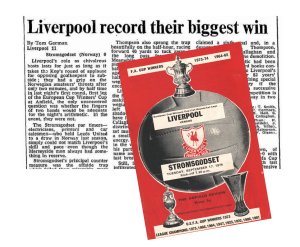 When it came to success in European football Bob Paisley would become of the genuine greats in the years to come but no-one present would forget the first European tie he had as manager of Liverpool. OK,
Strømsgodset were never going to be the toughest of opponents but Liverpool gave a clinical display which totally destroyed the Norwegian part-timers in a European Cup Winners' Cup First Round tie. The first goal came after just 3 minutes following a foul on Tommy Smith by
Strømsgodset keeper Inge Thun. The newspaper headline was doubtless then written - THUN-DERSTRUCK - and a continuous stream of goals followed. It was 5-0 at half-time and 8-0 with five minutes remaining before Tommy Smith, Ian Callaghan and Ray Kennedy scored to take the total to double figures and beyond. The 11-0 victory was - and still is - Liverpool's record victory and amazingly nine Liverpool players scored goals. Brian Hall was the only Liverpool outfield player not to get on the scoresheet.
A fortnight later Liverpool fielded an almost unchanged side although Kevin Keegan was back for his first match after his Charity Shield sending-off ban. Despite that a Ray Kennedy goal proved to be the only one of a match. So 12-0 on aggregate but just as they did following the victory against Dundalk they were beaten on away goals in the next round, against Ferencváros of Hungary.

Tuesday September 17th 1974, European Cup Winners Cup First Round First Leg
Liverpool 11 Strømsgodset
(Norway) 0
Attendance: 24,743
Team: Clemence; Smith, Lindsay, Thompson, Cormack, Hughes, Boersma, Hall, Heighway, Kennedy, Callaghan.
Goalscorers: Lindsay, Boersma 2, Thompson 2, Heighway, Cormack, Hughes, Smith, Callaghan, Kennedy.
*********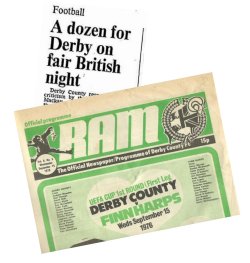 Derby County's previous match in Europe had seen them lose a European Cup tie 5-1 away to Real Madrid after having won the first leg 4-1 at the Baseball Ground. This time around though they were not expecting that sort of challenge when paired with League of Ireland side Finn Harps in a UEFA Cup First Round tie. Not that manager Dave Mackay was taking the opposition lightly. Without a win in their first five League matches of the season he gave his players a warning just before the UEFA Cup match - 'I am giving them two games to prove their worth and commitment. If they don't give me 100 per cent, there will be changes.' Sadly for the Irish minnows Derby regained their form that night. Kevin Hector scored the first of his five goals after just six minutes with the Rams scoring 12 in the match including five goals in a ten-minute spell. They followed up that record club victory with a 4-1 second leg win to progress 16-1 on aggregate. However they were to lose to AEK Athens in the next round with Mackay losing his job soon afterwards.
Wednesday September 15th 1976, UEFA Cup First Round First Leg
Derby County 12 Finn Harps (Republic of Ireland) 0
Attendance: 13,353
Team: Moseley; Thomas, Nish, Rioch, McFarland, Todd (sub: King), Macken, Gemmill, Hector, George, James.
Goalscorers: Hector 5, James, George 3, Rioch.
*********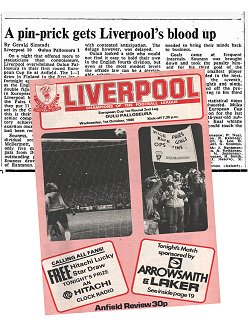 The 1980/81 season saw Liverpool win the European Cup for the third time and for the third time score double figures in a European tie. Finnish minnows Oulun Palloseura were on the receiving end of the 10-goal walloping although the Merseysiders did have their critics. Liverpool only managed a 1-1 draw in the first leg in Finish against a side the newspapers described as being of 'Fourth Division standard.' In the second leg at Anfield Liverpool had a 4-0 lead at the break but amazingly the second half started with a goal from the visitors, the only time a League side scoring double figures in a European tie has let one in. And it came from a Geordie - Keith Alexander scoring from a shot from the edge of the penalty box. Normal service then resumed and Liverpool scored six in the second half to win 10-1. A memorable moment came just two minutes from time when Oulun sent on a 16-year-old substitute, Miika Juntunen - bless him he didn't manage to touch the ball before the final whistle went!
Wednesday October 1st 1980, European Cup First Round Second Leg
Liverpool 10 Oulun Palloseura (Finland) 1
Attendance: 21,013
Team: Clemence: Neal, Cohen, Thompson, R Kennedy, Hansen, Dalglish, Lee, Fairclough, McDermott, Souness.
Goalscorers: Souness 3, McDermott 3, Lee, Kennedy. Fairclough 2
*********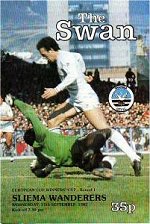 Not many clubs can boast that their record victory was achieved in a European tie. Fewer still that 8 different players scored goals in that victory including an eleven minute hat-trick from a substitute, Ian Walsh. However that was achieved by Welsh Cup holders Swansea City when they beat Sliema Wanderers 12-0 in an ECWC First Round First Leg match played at the Vetch Field in September 1982. That total was also the highest score by a Welsh side in any European match and after Swansea won the second leg 5-0 a fortnight later in Malta the aggregate score of 17-0 was another record for a Welsh side.
Wednesday September 15th 1982, European Cup Winners' Cup First Round First Leg
Swansea City 12 Sliema Wanderers (Malta) 0
Attendance: 5,130
Team: Davies: Marustik, Hadziabdic, Irwin, Kennedy, Rajkovic, Loveridge (sub: L James), R James, Charles, Stevenson, Latchford (sub: Walsh).
Goalscorers: Charles 2, Loveridge 2, Irwin, Latchford, Hadziabdic, Walsh 3, Rajkovic, Stevenson.
*********
Last but by no means least Blackpool deserve a special commendation for the 10 goals they scored against an Italian side when defending a European trophy they had won the previous season. Really, it happened! Blackpool won the Anglo-Italian Cup (it's a European competition!) in 1971 and in their final group match in the 1972 tournament, on June 10th 1972, they beat Lanerossi Vicenza 10-0. That put them into the final again although this time they suffered defeat, 3-1 against Roma in Rome.
**************
FA Cup
As every anorak will know the record score in the FA Cup is Preston North End 26 Hyde United 0. The First Round tie was played at Deepdale on Saturday 15th October 1887 and has also proved to be the highest score by any club in a senior match in England. It seems a tad unfair but I guess that hardly anybody will have the faintest idea of the second highest score in the FA Cup competition. That honour goes to two clubs - Staveley who beat Sheffield Walkley 19-0 in a First Qualifying Round match in 1890 and Oswestry Town who beat Badsey Rangers 19-3 in an Extra Preliminary Round tie in 1933.
*********
The FA Cup was a bit of an international competition in its early days with clubs entering from Ireland and Scotland as well as England and Wales. In one Third Round tie in the 1886/87 season Northern Ireland's Cliftonville lost 11-0 at home to Scotland's Partick Thistle.
On their way to the final in the 1883/84 season Queen's Park of Glasgow scored double-figures in both the First Round (10-0 away to Crewe Alexandra) and Second Round (15-0 at home v Manchester FC).
*********
When Arsenal met Lancashire Combination side Darwen in the Third Round of the FA Cup at Highbury on Saturday January 9th 1932 they led 8-0 at half time. At the final whistle they had 'only' won 11-1.
*********
I find it hard to understand why there have been so many double-figure scorelines in FA Cup replays - if two clubs are equally enough matched to draw the first match why the mis-match in the replay? The last time that happened was in the 1959/60 season when Fourth Division Crewe Alexandra and First Division Tottenham Hotspur drew a Fourth Round tie 2-2 at Gresty Road but four days later Spurs won the replay 13-2 at White Hart Lane.
*********
Southend United defeated Southern League Brentwood Town 10-1 in a Second Round FA Cup tie in December 1968 having nearly got double figures in the First Round when they beat another Southern League side, King's Lynn, 9-0.
*********
When Bournemouth beat Southern Leaguers Margate 11-0 in 1971 Ted MacDougal scored nine of them - five in the first half, four in the second. It set a new record for the most goals scored by a player in the competition proper of the FA Cup - Full Story.
The last club to score double figures in the competition proper was Shrewsbury Town. On Saturday November 11th 1995 they defeated non-leaguers Marine 11-2 in the First Round at Gay Meadow.
FA Cup results 1995/96
*********
The Football League was founded in 1888/89 and since then in the competition proper - First Round onwards - the following double figure scorelines have been recorded (* indicates a non-league club at the time).