1908/09 F.A. Charity Shield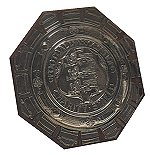 Wednesday 28th April 1909
Venue: Stamford Bridge, Chelsea FC
Newcastle United 2
(Allan, Rutherford)
Northampton Town 0


Half-time 1-0
Attendance: 7,000
The Charity Shield match was between the 1908/09 Football League champions, Newcastle United, and 1908/09 Southern League champions Northampton Town. The match was played at the end of the season in which they won their titles.
Newcastle United: J Lawrence, W McCracken, T Whitson, D Willis, C Veitch, P McWilliam, J Rutherford, J Howie, J Allan, G Wilson, A Anderson.
Northampton Town: P Cooch, R Bonthron, E Lloyd-Davies, J Manning, D McCartney, F Dunkley, F McDiarmid, A Walker, G Lessons, A Lewis, N Freeman.