1909/10 F.A. Charity Shield (played in 1910/11)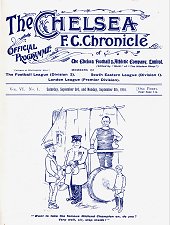 Monday 5th September 1910
Venue: Stamford Bridge, Chelsea FC
Brighton & Hove Albion 1
(Webb)
Aston Villa 0



Half-time 0-0
Attendance: 15,000
The Charity Shield match was between the 1909/10 Football League champions, Aston Villa, and 1909/10 Southern League champions Brighton & Hove Albion. The match was played at the start of the season after they had won their titles.
Brighton & Hove Albion: B Whiting, F Blackman, J Leeming, W Booth, J McGhie, J Haworth, A Longstaff, J Coleman, W Jones, C Webb, W Hastings.
Aston Villa: A Cartlidge, A Lyons, A Miles, G Tranter, C Buckley, G Hunter, C Wallace, J Walters, W Gerrish, J Bache, A Hall.