1910/11 F.A. Charity Shield (played in 1911/12)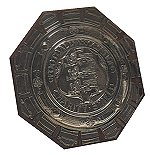 Monday 25th September 1911
Venue: Stamford Bridge, Chelsea FC
Manchester United 8
(Halse 6, Turnbull, Wall)
Swindon Town 4
(Fleming, Wheatcroft, Tout, Jefferson)

Half-time 4-3
Attendance: 12,000
The Charity Shield match was between the 1910/11 Football League champions, Manchester United, and 1910/11 Southern League champions Swindon Town. The match was played at the start of the season after they had won their titles.
Manchester United: H Edmunds, L Hofton, G Stacey, R Duckworth, C Roberts, A Bell, W Meredith, M Hamill, H Halse, A Turnbull, G Wall.
Swindon Town: L Skiller, H Kay, W Tout, F Handley, C Bannister, W Stilto, R Jefferson, H Fleming, F Wheatcroft, A Brown, S Lamb.