1911/12 F.A. Charity Shield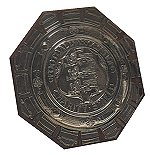 Saturday 4th May 1912
Venue: White Hart Lane, Tottenham Hotspur FC
Blackburn Rovers 2
(Aitkenhead 2)
Queens Park Rangers 1
(Revill)

Half-time 1-1
Attendance: 7,100
The Charity Shield match was between the 1911/12 Football League champions, Blackburn Rovers, and 1911/12 Southern League champions Queens Park Rangers. The match was played at the end of the season in which they won their titles although it was originally scheduled for the start of the 1912/13 season. However, following the sinking of the Titanic in April 1912 the match was brought forward to allow the proceeds to be donated to the Titanic Relief Fund.
Blackburn Rovers: A Robinson, R Crompton, A Cowell, A Walmsley, P Smith, W Bradshaw, J Simpson, E Latheron, W Aitkenhead, J Clennell, W Anthony.
Queens Park Rangers: C Shaw, J MacDonald, H Pullen, A Whyman, A Mitchell, W Wake, A Smith, E Revill, D McKie, H Thornton, W Barnes.