1949/50 Charity Shield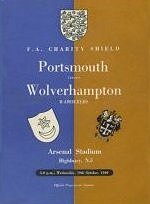 Wednesday 19th October 1949
Venue: Highbury, Arsenal FC
Portsmouth 1
(Reid)
Wolverhampton Wanderers 1
(Hancocks pen)
(each club held the Shield for 6 months)

Half-time 1-0
Attendance: 35,140
The Charity Shield match was between 1948/49 Football League champions, Portsmouth, and 1948/49 FA Cup winners Wolverhampton Wanderers.
Portsmouth: E Butler, W Hindmarsh, H Ferrier, J Scoular, W Thompson, J Dickinson, P Harris, J Reid, I Clarke, H Barlow, J Froggatt.
Wolverhampton Wanderers: D Parsons, L Kelly, T Springthorpe, E Russell, W Shorthouse, W Crook, J Hancocks, S Smyth, J Pye, J Dunne, J Mullen.