1952/53 Charity Shield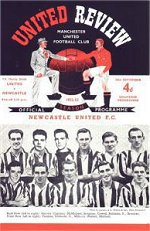 Wednesday 24th September 1952
Venue: Old Trafford, Manchester United FC
Manchester United 4
(Rowley 2, Byrne, Downie)
Newcastle United 2
(Keeble 2)
Half-time 0-1
Attendance: 11,381

The Charity Shield match was between 1951/52 Football League champions, Manchester United, and 1951/52 FA Cup winners Newcastle United.
Manchester United: R Wood, T McNulty, J Aston, J Carey, A Chilton, T Gibson, J Berry, J Downie, J Rowley, S Pearson, R Byrne.
Newcastle United: R Simpson, G Cowell, R Batty, E Robledo, R Stokoe, T Casey, T Walker, G Robledo, V Keeble, N Black, R Mitchell.