1955/56 Charity Shield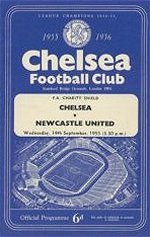 Wednesday 14th September 1955
Venue: Stamford Bridge, Chelsea FC
Chelsea 3
(McMichael og, Bentley, Blunstone)
Newcastle United 0
Half-time 0-0
Attendance: 12,802


The Charity Shield match was between 1954/55 Football League champions, Chelsea, and 1954/55 FA Cup winners Newcastle United.
Chelsea: W Robertson, P Sillett, S Willemse, K Armstrong, S Wicks, D Saunders, E Parsons, P Brabrook, R Bentley, L Stubbs, F Blunstone.
Newcastle United: J Thompson, G Lackenby, A McMichael, J Scoular, F Brennan, T Casey, L White, E Davies, J Milburn, G Hannah, W Punton.