1975/76 Charity Shield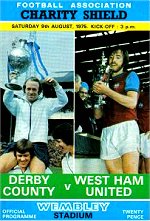 Saturday 9th August 1975
Venue: Wembley Stadium
Derby County 2
(Hector, McFarland)
West Ham United 0

Half-time 2-0
Attendance: 59,000


The Charity Shield match was between 1974/75 Football League champions, Derby County, and 1974/75 FA Cup winners West Ham United.
Derby County: C Boulton, R Thomas, D Nish, B Rioch, R McFarland, C Todd, H Newton, A Gemmill, F Lee, K Hector, C George.
West Ham United: M Day, J McDowell, F Lampard, P Holland, T Taylor, K Lock, A Taylor, G Paddon, W Jennings (sub: K Coleman), T Brooking, B Gould (sub: K Robson).