1992/93 Charity Shield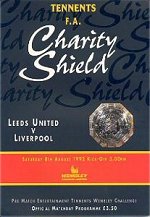 Saturday 8th August 1992
Venue: Wembley Stadium
Leeds United 4
(Cantona 3, Dorigo)
Liverpool 3
(Rush, Saunders, Strachan og)

Half-time 2-1
Attendance: 61,291
The Charity Shield match was between 1991/92 Football League champions, Leeds United, and 1991/92 FA Cup winners Liverpool.
Leeds United: J Lukic, J Newsome (sub: G Strachan), A Dorigo, D Batty, C Fairclough, C Whyte, E Cantona, R Wallace, L Chapman (sub: S Hodge), G McAllister, G Speed.
Liverpool: B Grobbelaar, N Tanner, D Burrows, M Marsh (sub: D Hutchison), R Whelan, M Wright, D Saunders, P Stewart, I Rush, R Rosenthal (sub: I Kozma), M Walters.