1993/94 Charity Shield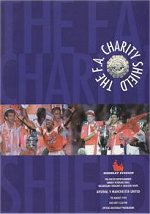 Saturday 7th August 1993
Venue: Wembley Stadium
Manchester United 1
(Hughes)
Arsenal 1
(Wright)

(Manchester United won 5-4 on penalties)

Half-time 1-1
Attendance: 66,519
The Charity Shield match was between 1992/93 Premier League champions, Manchester United, and 1992/93 FA Cup winners Arsenal.
Manchester United: P Schmeichel, P Parker, D Irwin, S Bruce, A Kanchelskis, G Pallister, P Ince, R Keane, M Hughes, R Giggs (sub: B Robson), E Cantona.
Arsenal: D Seaman, L Dixon (sub: M Keown), N Winterburn, P Davis, A Linighan, T Adams, J Jensen, I Wright, K Campbell, P Merson, A Limpar, (sub: E McGoldrick).