1995/96 Charity Shield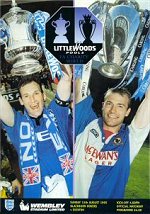 Sunday 13th August 1995
Venue: Wembley Stadium
Everton 1
(Samways)
Blackburn Rovers 0


Half-time 0-0
Attendance: 40,149
The Charity Shield match was between 1994/95 Premier League champions, Blackburn Rovers, and 1994/95 FA Cup winners Everton.
Everton: N Southall, E Barrett, A Hinchcliffe, J Parkinson, D Unsworth, G Ablett, V Samways, B Horne, A Grant (sub: D Watson), P Rideout, A Limpar.
Blackburn Rovers: T Flowers, J Kenna (sub: M Atkins), G le Saux, D Batty, I Pearce, C Sutton, S Ripley (sub: L Makel), T Sherwood, A Shearer, M Newell, K Gallacher (sub: N Marker).