1997/98 Charity Shield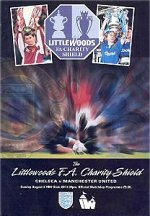 Sunday 3rd August 1997
Venue: Wembley Stadium
Manchester United 1
(Johnsen)
Chelsea 1
(Hughes)
Manchester United won 4-2 on penalties.


Half-time 0-0
Attendance: 73,636
The Charity Shield match was between 1996/97 Premier League champions, Manchester United, and 1996/97 FA Cup winners Chelsea.
Manchester United: P Schmeichel, D Irwin, P Neville, R Johnsen, R Keane, G Pallister, P Scholes, N Butt, A Cole, T Sheringham (sub: J Cruyff), R Giggs (sub: D Beckham).
Chelsea: E de Goey, F Sinclair, D Granville, J Morris (sub: D Petrescu), F Leboeuf, S Clarke, G Poyet, R Di Matteo, G Zola, M Hughes (sub: G Vialli), D Wise.