1998/99 Charity Shield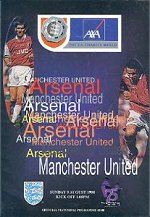 Sunday 9th August 1998
Venue: Wembley Stadium
Arsenal 3
(Overmars, Wreh, Anelka)
Manchester United 0

Half-time 1-0
Attendance: 67,342

With Arsenal having won the Premier League/FA Cup double in 1997/98 the Charity Shield match was between the north-Londoners and 1997/98 Premier League runners-up Manchester United.
Arsenal: D Seaman, L Dixon, N Winterburn, P Vieira (sub: G Grimandi), M Keown, T Adams (sub: S Bould), R Parlour, N Anelka, E Petit (sub: L Boa Morte), D Bergkamp (sub: C Wreh), M Overmars (sub: S Hughes).
Manchester United: P Schmeichel, G Neville, D Irwin, R Johnsen, R Keane, (sub: H Berg), J Stam, D Beckham, N Butt (sub: OG Solskjaer), A Cole (sub: T Sheringham), P Scholes (sub: P Neville), R Giggs (sub: J Cruyff).