2003/04 Community Shield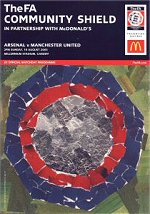 Sunday 10th August 2003
Venue: Millennium Stadium, Cardiff
Manchester United 1
(Silvestre)
Arsenal 1
(Henry)
(Manchester United won 4-3 on penalties)

Half-time 1-1
Attendance: 59,293
The Community Shield match was between the 2002/03 Premier League champions, Manchester United, and 2002/03 FA Cup winners Arsenal.
Manchester United: T Howard, P Neville, (sub: D Forlan), Q Fortune (sub: J O'Shea), R Ferdinand, R Keane, M Silvestre, OG Solskjaer, N Butt (sub: E Djemba-Djemba), R Van Nistelrooy, R Giggs, P Scholes.
Arsenal: J Lehmann, Lauren, A Cole, P Vieira, S Campbell, K Toure, R Parlour (sub: S Wiltord), G Silva (sub: Edu), T Henry (sub: R Pires), D Bergkamp (sub: F Jeffers), F Ljungberg (sub: G Van Bronckhorst).