2004/05 Community Shield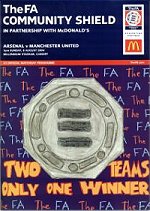 Sunday 8th August 2004
Venue: Millennium Stadium, Cardiff
Arsenal 3
(Gilberto, Reyes, Silvestre og)
Manchester United 1
(Smith)

Half-time 0-0
Attendance: 63,317
The Community Shield match was between the 2003/04 Premier League champions, Arsenal, and 2003/04 FA Cup winners Manchester United.
Arsenal: J Lehmann, Lauren, K Toure, P Cygan, A Cole, J Pennant, G Silva, F Fabregas (sub: S Svard), J Reyes (sub: J Hoyte), D Bergkamp (sub: J Alladiere who was subbed by: G Clichy), T Henry (sub: R van Persie).
Manchester United: T Howard, G Neville, J O'Shea (sub: J Spector), M Silvestre, Q Fortune (sub: P Neville), D Bellion, E Djemba-Djemba, R Keane (sub: D Fletcher), R Giggs (sub: D Forlan), A Smith (sub: K Richardson), P Scholes (sub: C Eagles).