2006/07 Community Shield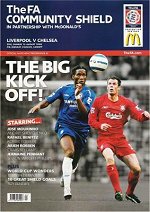 Sunday 13th August 2006
Venue: Millennium Stadium, Cardiff
Liverpool 2
(Riise, Crouch )
Chelsea 1
(Shevchenko)
Half-time 1-1
Attendance: 56,275
The Community Shield match was between the 2005/06 Premier League champions, Chelsea, and 2005/06 FA Cup winners Liverpool.
Liverpool: JM Reina, S Finnan, J Carragher, D Agger, JA Riise, J Pennant (sub: X Alonso), M Sissoko, B Zenden (sub: S Gerrard), M Gonzalez (sub: F Aurelio), L Garcia (sub: C Bellamy), P Crouch (sub: F Sinama Pongolle).
Chelsea: C Cudicini, Geremi (sub: W Bridge), R Carvalho, J Terry, P Ferreira (sub: J Obi Mikel), M Essien, M Ballak (sub: S Kalou), F Lampard, A Robben (sub: L Diarra), A Shevchenko, D Drogba (sub: S Wright-Phillips).