2008/09 Community Shield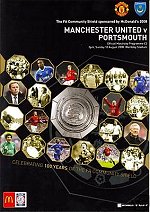 Sunday 10th August 2008
Venue: Wembley Stadium

Manchester United 0
Portsmouth 0
(Manchester United won 3-1 on penalties)
Half-time 0-0
Attendance: 84,808
The Centenary Community Shield match was between the 2007/08 Premier League champions, Manchester United, and 2007/08 FA Cup winners Portsmouth.
Manchester United: E Van der Sar, G Neville (sub: W Brown), R Ferdinand, N Vidic, P Evra, D Fletcher, J O'Shea (sub: M Carrick), P Scholes, Nani (sub: F Campbell), R Giggs, C Tevez.
Portsmouth: D James, G Johnson, S Campbell, S Distin, H Hreidarsson (sub: Lauren), P Bouba Diop, L Diarra, P Mendes (sub: A Mvuemba), N Kranjcar (sub: J Utaka), P Crouch, J Defoe.