2013/14 Community Shield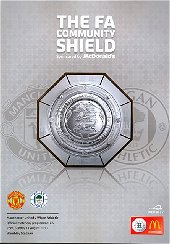 Sunday 11th August 2013
Venue: Wembley

Manchester United 2
(van Persie 2)
Wigan Athletic 0
Half-time 1-0
Attendance: 80,235


The Community Shield match was between the 2012/13 Premier League champions, Manchester United, and the surprise FA Cup winners in 2012/13, Wigan Athletic.
Manchester United: D De Gea, Rafael (sub: C Smalling), P Evra, P Jones, N Vidic, R Giggs (sub: O Anderson), M Carrick, T Cleverley, D Welbeck (sub: S Kagawa), R van Persie (sub: A Januzaj), W Zaha (sub: A Valencia).
Wigan: S Carson, S Crainey, E Boyce, J Perch, L Barnett. J McCarthy (sub: N Dicko), B Watson (sub: R Espinoza), J McArthur (sub: C McCann), G Holt (sub: M Fortune), S Maloney (sub: J Gomez), J McClean (sub: C McManaman).