Second Championship 2001
The second FIFA World Club Championship was due to be played in Spain from 28th July 2001 with its final at the Santiago Bernabeu on Sunday 12th August. It was scheduled to be an expanded competition with 12 entrants rather than the 8 competing clubs who took part in the first competition. Competing clubs were due to be Deportivo La Coruna and Real Madrid (from host country Spain), Boca Juniors (Argentina), Palmeiras (Brazil), Al-Hilal (Saudia Arabia), Jubilo Iwalta (Japan), Galatasaray (Turkey), Los Angeles Galaxy (United States), Club Deportivo Olimpia (Honduras), Heart of Oak (Ghana) Zamalek (Egypt) and Wollongong Wolves (Australia). However, following the collapse of ISMM/ISL, who had been FIFA's marketing partner arranging sponsorship, the championship was postponed, initially to 2003 then to 2005.
First Championship 2000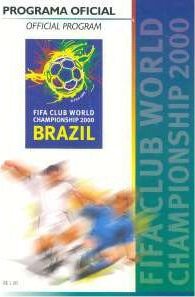 The inaugural World Club Championship was held in Brazil in January 2000. Eight clubs took part - Corinthians (Brazil - 1998 and 1999 Brazilian champions), Club Regatas Vasco da Gama (Brazil -1998 Copa Libertadores winners), Al Nassr (Saudia Arabia - 1998 Asian Super Cup winners), Real Madrid (Spain - 1998 Toyota Intercontinental Cup winners), Manchester United (England - 1999 Champions League winners), Rayos del Necaxa (Mexico - 1999 CONCACAF Champions League winners), South Melbourne (Australia - 1999 OFC champions), Raja Casablanca (Morocco, 1999 CAF champions).
Results -