Aggregate Score:
AC Milan 3
Sampdoria 1
The European Super Cup match was between the 1989/90 winners of the European Cup, AC Milan, and European Cup-Winners' Cup, Barcelona.

1st Leg
Wednesday October 10th 1990
Venue: Stadio Luigi Ferraris, Genoa
Sampdoria 1
(Mikhailichenko 31)
AC Milan 1
(Evani 39)


Half-time 1-1
Attendance: 19,724
Sampdoria: Pagliuca, Mannini, Invernizzi, Pari, Lanna, Pellegrini, Mikhailichenko, Lombardo, Branca, Mancini, Dossena.
AC Milan: Pazzagli, Tassotti, Costacurta, Gaudenzi, Galli, Baresi, Donadoni (sub: Rijkaard), Ancelotti, Massaro, Gullit, Evani (sub: Stroppa).
Referee: J. Rosa Dos Santos (Portugal)
2nd Leg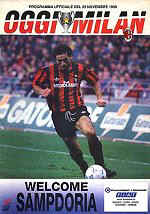 Thursday November 29th 1990
Venue: Renato Dall'Ara stadium, Bologna

AC Milan 2
(Gullit 44, Rijkaard 76)
Sampdoria 0

Half-time 1-0
Attendance: 20,942

AC Milan: Pazzagli, Tassotti, Baresi, Costacurta (sub: Galli), Maldini, Carbone, Ancelotti, Rijkaard, Evani, Gullit (sub: Donadoni), Agostini.
Sampdoria: Pagliuca, Lanna, Pellegrini, Vierchowod, Bonetti, Pari, Mikhailichenko (sub: Dossena), Katanec (sub: Branca), Lombardo, Vialli, Mancini.
Referee: Zoran Petrovic (Yugoslavia)