Aggregate Score:
Barcelona 3
Borussia Dortmund 1
The European Super Cup match was between the 1996/97 winners of the Champions League, Borussia Dortmund, and European Cup-Winners' Cup, Barcelona.

1st Leg
Thursday January 8th 1998
Venue: Nou Camp, Barcelona
Barcelona 2
(Luis Enrique 8, Rivaldo 61 (pen))
Borussia Dortmund 0

Half-time 1-0
Attendance: 50,000
Barcelona: Hesp, Bogarde, Celedes, Reiziger (sub: Abelardo), Ferrer, Sergi, de la Pena, Rivaldo (sub: Giovanni), Luis Enrique, Figo (sub: Stoichkov), Anderson.
Borussia Dortmund: Klos, Kree, Schneider (sub: Reinhardt), Binz, Heinrich, But (sub: Zorc), Ricken, Freund, Tanko (sub: Chapuisat), Kirovski, Decheiver.
Referee: David Elleray (England)
2nd Leg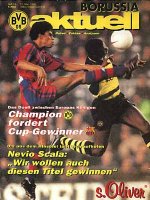 Wednesday March 11th 1998
Venue: Westfalendstadion, Dortmund

Borussia Dortmund 1
(Heinrich 64)
Barcelona 1
(Giovanni 8)

Half-time 0-1
Attendance: 32,500

Borussia Dortmund: Klos, Schneider, Freund (sub: Mehnert), Zorc, Kohler (sub: Kirovski), Kree, Heinrich, Ricken, Binz, Decheiver, Chapuisat (sub: Gambo).
Barcelona: Hesp, Ferrer, Bogarde, Nadal, Sergi, Figo, Celedes (sub: Amor), Luis Enrique (sub: Ciric), Anderson (sub: Garcia), Giovanni, Rivaldo.
Referee: Piero Ceccarini (Italy)