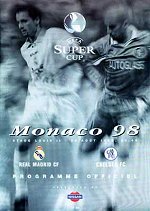 Friday 28th August 1998
Venue: Stade Louis II, Monaco
Chelsea 1
(Poyet 83)
Real Madrid 0

Half-time 0-0
Attendance: 9,762

The European Super Cup match was between the 1997/98 winners of the Champions League, Real Madrid, and European Cup Winners' Cup, Chelsea.
Chelsea: De Goey, Ferrer, Le Saux, Duberry, Leboeuf, Desailly, Babayaro, Di Matteo (sub: Poyet), Casiraghi (sub: Flo), Zola (sub: Laudrup), Wise.
Real Madrid: Illgner, Panucci, Sanchis, Hierro, Roberto Carlos, Karembeu (sub: Morientes), Seedorf, Redondo, Savio, Mijatovic (sub: Jarni), Raul.
Referee: Marc Batta (France)