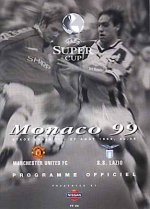 Friday 27th August 1999
Venue: Stade Louis II, Monaco
Lazio 1
(Salas 35)
Manchester United 0

Half-time 1-0
Attendance: 14,461

The European Super Cup match was between the 1998/99 winners of the Champions League, Manchester United, and the European Cup Winners' Cup, Lazio.
Lazio: Marchegiani, Negro, Pancaro, Nedved (sub: Simeone), Nesta, Mihajlovic, Stankovic, Veron, Inzaghi (sub: Salas), Mancini (sub: Lombardo), Almeyda.
Manchester United: Van der Gouw, G Neville, P Neville, Berg, Keane, Stam (sub: Curtis), Beckham (sub: Cruyff), Scholes, Cole (sub: Greening), Sheringham, Solskjaer.
Referee: Ryszard Wojcik (Poland)