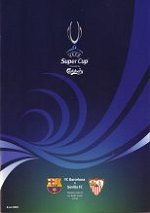 Friday 25th August 2006
Venue: Stade Louis II, Monaco

Sevilla 3
(Renato 7, Kanoute 45, Maresca 90 pen)
Barcelona 0

Half-time 2-0
Attendance: 18,000



The European Super Cup match was between the 2005/06 winners of the Champions League, Barcelona, and UEFA Cup, Sevilla.
Sevilla: Palop, Navarro, Castedo, Alves, Correia (sub: Puerta), Poulsen, Fabiano (sub: Marti), Renato, Kanoute, Escude, Navas (sub: Maresca).
Barcelona: Valdes, Belletti, Motta (sub: Gudjohnsen), Marquez, Puyol, Xavi (sub: Iniesta), Eto'o, Ronaldinho, Sylvinho (sub: Giuly), Messi, Deco.
Referee: Stefano Farina (Italy)