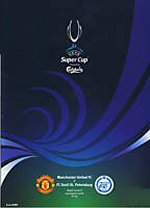 Friday 29th August 2008
Venue: Stade Louis II, Monaco

Zenit St Petersburg 2
(Pogrebnyak 44, Danny 59)
Manchester United 1
(Vidic 73)

Half-time 1-0
Attendance: 18,500


The European Super Cup match was between the 2007/08 winners of the Champions League, Manchester United, and UEFA Cup, Zenit St Petersburg.
Zenit St Petersburg: Malafeev, Anyukov, Krizanac (sub: Radimov), Puygrenier (sub: Shirokov), Sirl, Tymoshchuk, Denisov, Zyryanov, Danny, Pogrebnyak, Dominguez (sub: Arshavin).
Manchester United: van der Sar, Neville (sub: Brown), Ferdinand, Vidic, Evra, Fletcher (sub: Park), Scholes, Anderson (sub: O'Shea), Nani, Rooney, Tevez.
Referee: Claus Bo Larsen (Denmark)