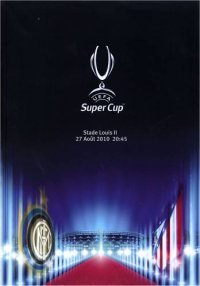 Friday 27th August 2010
Venue: Stade Louis II, Monaco

Atletico Madrid 2
(Reyes 62, Aguero 83)
Inter Milan 0

Half-time: 0-0
Attendance: 17,265


The European Super Cup match was between the 2009/10 winners of the Champions League, Inter Milan, and the Europa League, Atletico Madrid.
Atletico Madrid: De Gea, Ujfalusi, Perea, Godin, Dominguez, Reyes (sub: Merida), Asuncao, Raul Garcia, Simao (sub: Camacho), Aguero, Forlan (sub: Jurado).
Inter Milan: Julio Cesar, Maicon, Lucio, Samuel, Chivu, Zanetti, Cambiasso, Stankovic, (sub: Pandev), Sneijder (sub: Coutinho), Eto'o, Milito.
Referee: Massimo Busacca (Switzerland)