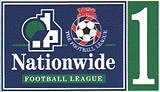 Leading League goalscorers:
Pierre Van Hooijdonk (Nottingham Forest) &
Kevin Phillips
(Sunderland)
29 goals
It was not the first season at their new Britannia Stadium that Stoke City would have hoped for. The stadium was officially opened by Sir Stanley Matthews when it staged its first League match, against Swindon on Saturday 30th August 1997. Stoke lost that match and another 9 League matches at the Britannia including 7-0 and 5-2 home defeats by Birmingham and Manchester City. Stoke were relegated.
Manchester City also made the drop to play in the third tier of the League for the first time. But had City's Jamie Pollock not scored an amazing own goal for QPR in the last few days of the season City wouold have stayed up and QPR would have gone down.
Own goals