Leading League goalscorer:
Andrew Morrell
(Wrexham)
34 goals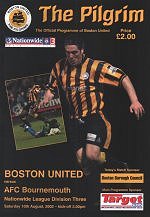 Boston United made their debut in the Football League against Bournemouth on Saturday 10th August 2002 - but only just. Financial irregularities while they were in the Conference almost cost them their promotion to the Football League, minus four points at the start of the season being their punishment.
They say that hope is the one thing every football supporter needs. It needed a last-match 4-2 victory over Hull at the Vetch Field to keep Swansea City in the Football League. Who would have believed that just eight years later they would be playing in a modern stadium in the Premier League. But that progress was slow compared to Hull who were playing in the Premier just 5 years later.