Leading goalscorer:
Sylvain Ebanks-Blake
(Wolverhampton Wanderers - includes 11 goals for Plymouth Argyle)
23 goals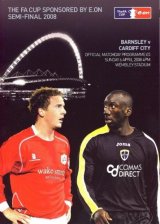 For the first time since the 1907/08 season three clubs from outside the top flight contested the FA Cup semi-finals. But sadly Barnsley and WBA were defeated in the semis while Cardiff were beaten by Premier side Portsmouth in the final.
Sheffield United progress to the Fifth Round of the FA Cup defeating Premier Division Manchester City thanks to a one-two with a balloon.
Goals and their Goalscorers.
Hull was always known as the biggest city not to have had a club play in the top flight. But no more - they were finally promoted to the Premier League.