Leading League goalscorer:
Matt Tubbs
(Crawley Town)
37 goals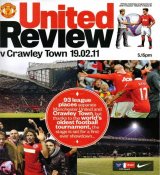 Crawley Town earned the right to a place in the Football League after taking the Conference title with five matches remaining and amassing a record 105 points. Their match of the season though was in the FA Cup - a fifth round tie against Manchester United at Old Trafford. As the programme cover said, there were 93 league places between the two clubs but you would hardly have known that with the non-leaguers only suffering a 1-0 defeat.
AFC Wimbledon came close to having their dream FA Cup tie. The Second Round draw was AFC Wimbledon v Stevenage or Milton Keynes Dons but last season's Conference champions Stevenage didn't keep to the script, defeating the Dons in the replay. But after only being formed in 2002 AFC Wimbledon won their own place in the Football League through the play-offs so perhaps it won't be too long before Wimbledon and Milton Keynes play each other in a competitive fixture.
Rushden were expelled from the Conference because of their financial problems (see right), Altrincham and Histon were relegated to the Conference North and Eastbourne Borough to the Conference South.
Braintree Town (champions) and Ebbsfleet United (play-offs) were promoted from the Conference South into the Conference for 2011/12 while Alfreton Town (champions) and Telford United (play-offs) were promoted from the Conference North.