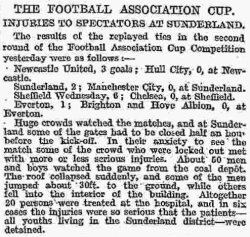 * The FA Cup Second Round match between Manchester City and Sunderland on Saturday February 1st 1913 was abandoned due to problems with the crowd (Sunderland were leading 2-0 at the time). The official attendance at Hyde Road was 41,709 although it was estimated that 50,000 were in the ground with many thousands more locked out of it. The crowd spilled onto the pitch forcing an abandonment. Manchester City were fined £500 and the re-arranged match was staged at Roker Park.

That re-arranged match played four days later at Roker Park also saw some serious crowd problems as reported in a newspaper at the time....

** Sunderland's FA Cup semi-final against Burnley was played at Bramall Lane, Sheffield United FC, and the replay at St Andrews, Birmingham FC. The final against Aston Villa was played at the Crystal Palace, London, in front of a crowd of 120,081.