Leading League goalscorer:
Clarrie Bourton
(Coventry City)
40 goals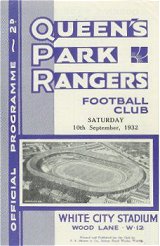 QPR's experimental move to the White City ended (for a while anyway!) in its second season. Only four early season home matches attracted 10,000+ attendances and by the season end crowds had dropped to less than 3,000 which gave the huge stadium an almost empty feel about it. So it was to be back to Loftus Road in 1933/34.
Brighton were late in their application to enter the FA Cup and had to play through the qualifying rounds. Despite starting at the First Qualifying Round stage they got through to the 5th Round proper and in fact didn't get further in the competition until they reached the final in 1983. In all they played 11 matches in 9 rounds and scored 43 goals. Results.