* The FA Cup 6th Round 2nd replay against Sunderland was played at Leeds Road, Huddersfield Town FC.

Manchester United did not enter the League Cup competition in 1963/64.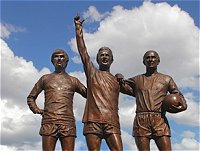 Saturday 18th January 1964 marked a red-letter day in the history of Manchester United. The United Trinity of George Best, Bobby Charlton and Denis Law played together for the first time in Manchester United colours. And what a first match it proved. A week after losing to Birmingham City at Old Trafford, United travelled to West Bromwich Albion and came away with a resounding 4-1 victory, the United Trinity sharing those goals. After the horrors of Munich at last it appeared that a new successful era was dawning for Manchester United. So it was to prove. Match details -
Saturday 18th January 1964, Division 1, WBA 1 Manchester United 4. Attendance: 25,624
Manchester United: Gaskell, Dunne, Cantwell, Crerand, Foulkes, Setters, Herd, Moore, Charlton, Law, Best.
Goals: Law 2, Best, Charlton.