Leading League goalscorers:
Gerry Ingram
(Preston North End) &
Dudley Roberts
(Mansfield Town)
22 goals
Despite playing in the Third Division for the first time Aston Villa's supporters stuck with them. Their average home League attendance of 26,123 was better than 9 clubs in the top flight.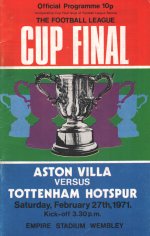 Aston Villa also became the third side from Division 3 to reach a League Cup final at Wembley. But unlike QPR in 1967 and Swindon in 1969 Villa were beaten, 2-0 by Tottenham Hotspur.