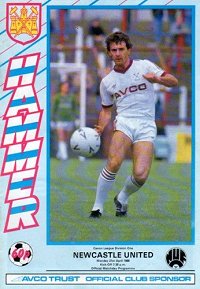 West Ham looked as if they might end the 1985/86 season as League champions and against Newcastle United on Monday April 21st 1986 the dream of a League title looked as if it was a genuine reality. Alvin Martin put the Hammers one-up after just three minutes and with 11 minutes gone Ray Stewart made it 2-0. A 30-yarder from Neil Orr made it 3-0 in the 36th minute while an own goal from Glen Roeder shortly before the half time whistle gave West Ham a 4-0 lead at the break. The visitors came out for the second half having substituted their injured goalkeeper Martin Thomas and replaced him with outfield player Chris Hedworth (no goalkeeper subs in those days). Worse was soon to follow for the Magpies with an injury to Hedworth forcing him off, leaving the visitors with ten players and Peter Beardsley in goal. Four more West Ham goals came in the second half - from Paul Goddard, Frank McAvennie and two more from Alvin Martin - while Newcastle got a consolation goal from Billy Whitehurst. A radio reporter said it could have been 18 goals rather than 8 but the eight equalled the Hammers' top League score and Alvin Martin's hat-trick was scored against three different goalkeepers. Match details -
Monday 21st April 1986, Football League First Division
West Ham United 8 (Martin 3, Stewart, Roeder (og), Orr, Goddard, McAvennie)
Newcastle United 1 (Whitehurst)
Attendance: 24,735
West Ham United - Parkes; Stewart, Parris, Gale, Martin, Devonshire, Ward, McAvennie, Dickens (sub:: Goddard), Cottee, Orr.
Newcastle United - Thomas (sub: Stewart); McDonald, Bailey, McCreery, Anderson, Roeder, Stephenson, Hedworth, Whitehurst, Beardsley, Cunningham.
West Ham kept their title hopes alive until just two days before their final match when Liverpool clinched the title with a win at Chelsea. In the last-match decider for the runners-up position Everton beat West Ham 3-1 at Goodison to make it a Merseyside one/two at the top of the table but third place was - and still is - West Ham's highest League placing. And amazingly it was achieved with an almost unchanged line-up - 9 players played in 38 or more of the 42 League matches in the days when only one sub was allowed. Sadly there was no reward of a European place in 1986/87 following the Heysel ban on English clubs in Europe.