ARSENAL
create a new League record by remaining unbeaten in
49 consecutive League games.
It may be hard to believe now but Nottingham Forest not only once won the League championship but for two seasons they were the best team in Europe. Cloughie had made Forest a hard team to beat which was clearly shown by the fact that between November 1977 and November 1978 the Nottingham club had gone a record 42 League games unbeaten (Forest's record). It was always going to take a brilliant side to beat that record, and that brilliant side proved to be Arsene Wenger's Arsenal side of a quarter of a century or so later.
The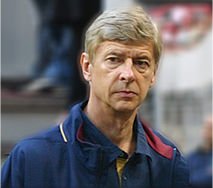 Gunners record was spread over three seasons and was to last from May 2003 to October 2004 and so included a complete unbeaten season in the Premier League in 2003/04. They increased the record to 49 unbeaten League matches before - almost inevitably - their greatest rivals Manchester United defeated them at Old Trafford. Normally that victory would probably have given United an edge in the championship race but by the start of the 2004/05 campaign there was a new, more successful kid on the block - Chelsea. That season finished 1st Chelsea, 2nd Arsenal, 3rd Manchester United - full table.
The 49 matches

2002/03

Sun
May
4
Premier
Leeds United
Home
Lost
2-3
1
Wed
May
7
Premier
Southampton
Home
Won
6-1
2
Sun
May
11
Premier
Sunderland
Away
Won
4-0

2003/04

3
Sat
Aug
16
Premier
Everton
Home
Won
2-1
4
Sun
Aug
24
Premier
Middlesbrough
Away
Won
4-0
5
Wed
Aug
27
Premier
Aston Villa
Home
Won
2-0
6
Sun
Aug
31
Premier
Manchester City
Away
Won
2-1
7
Sat
Sep
13
Premier
Portsmouth
Home
Drew
1-1
8
Sun
Sep
21
Premier
Manchester United
Away
Drew
0-0
9
Fri
Sep
26
Premier
Newcastle United
Home
Won
3-2
10
Sat
Oct
4
Premier
Liverpool
Away
Won
2-1
11
Sat
Oct
18
Premier
Chelsea
Home
Won
2-1
12
Sun
Oct
26
Premier
Charlton Athletic
Away
Drew
1-1
13
Sat
Nov
1
Premier
Leeds United
Away
Won
4-1
14
Sat
Nov
8
Premier
Tottenham Hotspur
Home
Won
2-1
15
Sat
Nov
22
Premier
Birmingham City
Away
Won
3-0
16
Sun
Nov
30
Premier
Fulham
Home
Drew
0-0
17
Sat
Dec
6
Premier
Leicester City
Away
Drew
1-1
18
Sun
Dec
14
Premier
Blackburn Rovers
Home
Won
1-0
19
Sat
Dec
20
Premier
Bolton Wanderers
Away
Drew
1-1
20
Fri
Dec
26
Premier
Wolverhampton W.
Home
Won
3-0
21
Mon
Dec
29
Premier
Southampton
Away
Won
1-0
22
Wed
Jan
7
Premier
Everton
Away
Drew
1-1
23
Sat
Jan
10
Premier
Middlesbrough
Home
Won
4-1
24
Sun
Jan
18
Premier
Aston Villa
Away
Won
2-0
25
Sun
Feb
1
Premier
Manchester City
Home
Won
2-1
26
Sat
Feb
7
Premier
Wolverhampton W.
Away
Won
3-1
27
Tue
Feb
10
Premier
Southampton
Home
Won
2-0
28
Sat
Feb
21
Premier
Chelsea
Away
Won
2-1
29
Sat
Feb
28
Premier
Charlton Athletic
Home
Won
2-1
30
Sat
Mar
13
Premier
Blackburn Rovers
Away
Won
2-0
31
Sat
Mar
20
Premier
Bolton Wanderers
Home
Won
2-1
32
Sun
Mar
28
Premier
Manchester United
Home
Drew
1-1
33
Fri
Apr
9
Premier
Liverpool
Home
Won
4-2
34
Sun
Apr
11
Premier
Newcastle United
Away
Drew
0-0
35
Fri
Apr
16
Premier
Leeds United
Home
Won
5-0
36
Sun
Apr
25
Premier
Tottenham Hotspur
Away
Drew
2-2
37
Sat
May
1
Premier
Birmingham City
Home
Drew
0-0
38
Tue
May
4
Premier
Portsmouth
Away
Drew
1-1
39
Sun
May
9
Premier
Fulham
Away
Won
1-0
40
Sat
May
15
Premier
Leicester City
Home
Won
2-1

2004/05

41
Sun
Aug
15
Premier
Everton
Away
Won
4-1
42
Sun
Aug
22
Premier
Middlesbrough
Home
Won
5-3
43
Wed
Aug
25
Premier
Blackburn Rovers
Home
Won
3-0
44
Sat
Aug
28
Premier
Norwich City
Away
Won
4-1
45
Sat
Sep
11
Premier
Fulham
Away
Won
3-0
46
Sat
Sep
18
Premier
Bolton Wanderers
Home
Drew
2-2
47
Sat
Sep
25
Premier
Manchester City
Away
Won
1-0
48
Sat
Oct
2
Premier
Charlton Athletic
Home
Won
4-0
49
Sat
Oct
16
Premier
Aston Villa
Home
Won
3-1
Sun
Oct
24
Premier
Manchester United
Away
Lost
0-2