Nottingham Forest 12 Leicester Fosse 0
21st April 1909
Football League Division 1
A record score - and an unusual reason for it!
When Nottingham Forest met Leicester Fosse - forerunners of Leicester City - at the end of the 1908/09 season a relegation battle was expected. Few, however, could have expected what was to be such a memorable match.
Leicester Fosse were doomed to relegation from the First Division. Forest were one of a number of clubs fighting to avoid filling the second relegation spot and would have been hoping for two points from the match to aid that cause. A few goals would also aid their goal average, an important consideration with things being so tight at the bottom. By the time the 90 minutes were up that hope that been fulfilled with Forest victorious by 12 goals to nil, the match being as one-sided as the scoreline suggested.
The other relegation-threatened clubs protested and a League inquiry was held at Leicester on 6th May 1909. It came out that the reason for Fosse's poor performance was that two days before the match the Leicester players had attended the wedding of team-mate Turner - and that the celebrations had continued until the early hours of the morning of the match against Forest!
Leicester escaped punishment, but then they had already been relegated.
For the Record -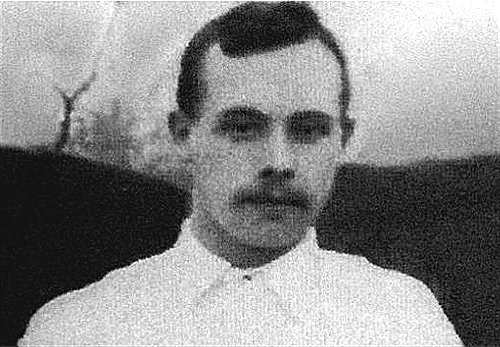 Nottingham Forest: Iremonger, Dudley, Maltby, Hughes, Needham, Armstrong, Hooper, Marrison, West, Morris, Spouncer (pictured).
Leicester Fosse: Bailey, Hedley, Pollock, Ruddle, Gorman, Goldie, Holding, Shinton, Donnelly, Turner, West.
Goalscorers: Hooper (3), Hughes, Morris (2), Spouncer (3), West (3)
Referee: Mr J. Howcroft
Attendance: 3000 (approx)