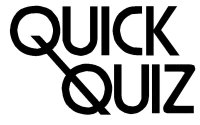 Quiz 38 - Streakers & Mooners
Hey, football is not just about kicking a ball around on a pitch!
This quiz covers a more specialized aspect of our game!
Best of luck.
For dozens more quizzes click on
Quizzes
2.
I guess that it's not rocket science to understand that streaking is all about publicity. When Kinsey Wolanski streaked at a major sporting occasion that was being televised live in 2019 it was estimated that the stunt had brought her around £3 million of free publicity. Her followers on Instagram increased from 300,000 to 2,400,000 and she said that it was a major boost to her ambition of retiring at 30. At which sporting event did she perform her streak?



3
.


Probably the most famous streaker since Lady Godiva she streaked during half-time at the England v Australia Rugby Union international on 2nd January 1982 and became a household name at the time. Who (pictured right)?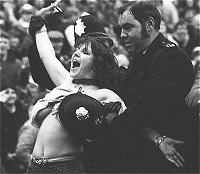 4
.

In January 2000 Tracy Sergeant decided to liven up the world championship of a sport she said had 'a reputation as a boring game.' She streaked the length of the playing surface and planted a kiss on the two competitors - David Gourlay and Les Sauders. Which sport?






5
.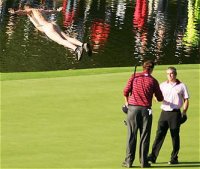 I'm not sure if this was a streaker or Tom Daley practising but at which famous golf tournament was this photo taken in 2006?


6
.

When Andrew Slater interrupted a match between Paul Hunter and Quinten Hann with a streak at the Embassy World Snooker Championships in 2002 he wore just a pair of socks and a face-mask of which football personality?




7.

Perhaps the most famous 'mass moon' of them all was back in 1988 when which football club was fined after nine of their players bared their backsides at a testimonial match shortly after they had won the FA Cup for the first time?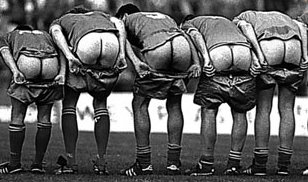 8.

In July 2012 in Henley which sports-related event was upstaged by a streaker with 'Free Tibet' painted on his back?




9.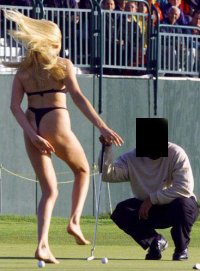 Which golfer missed his putt after this meeting with Yvonne Robb at the 1999 British Open at Carnoustie?
Tiger Woods

10.

Who was the radio commentator at the England-Australia Test Match at Lords in 1975 whose commentary on a streaker interrupting play has become a radio classic?