1919/20 F.A. Charity Shield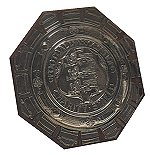 Saturday 15th May 1920
Venue: White Hart Lane, Tottenham Hotspur FC
West Bromwich Albion 2
(Smith 2)
Tottenham Hotspur 0

Half-time 1-0
Attendance: 38,168
The Charity Shield match was between the 1919/20 Football League champions, West Bromwich Albion, and 1919/20 Second Division champions Tottenham Hotspur. The match was played at the end of the season in which they won their titles.
West Bromwich Albion: H Pearson, J Smith, J Pennington, S Richardson, S Bowser, R McNeal, J Crisp, A Smith, A Bentley, F Morris, H Gregory.
Tottenham Hotspur: W Jacques, T Clay, R Brown, J Archibald, B Smith, A Grimsdell, J Banks, J Seed, J Cantrell, H Bliss, J Dimmock.