1920/21 F.A. Charity Shield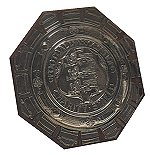 Monday 16th May 1921
Venue: White Hart Lane, Tottenham Hotspur FC
Tottenham Hotspur 2
(Bliss, Cantrell)
Burnley 0

Half-time 2-0
Attendance: 18,000
The Charity Shield match was between the 1920/21 Football League champions, Burnley, and the FA Cup winners of 1920/21, Tottenham Hotspur. The match was played at the end of the season in which they won their honours. It was the first time that the FA Cup winners had been invited to compete for the trophy.
Tottenham Hotspur: A Hunter, T Clay, R McDonald, B Smith, C Walters, A Grimsdell, J Banks, J Seed, J Cantrell, H Bliss, J Dimmock.
Burnley: J Dawson, L Smelt, W Taylor, A Basnett, T Boyle, W Watson, W Nesbitt, R Kelly, J Anderson, B Cross, E Mosscrop.