DID YOU KNOW.....
FOOTBALL in the MEDIA
Football has a million and one stories and just as many facts and figures. Here are a few of them - the record-breaking, unusual and bizarre.
More Did You Knows...
Index
1 2 3 4 5 6 7 8 9 10 11 12 13 14 15 16 17 18 19 20
21 22 23 24 25 26 27 28 29 30 31 32 33 34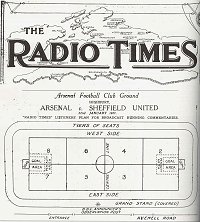 History was made at Highbury on Saturday January 22nd 1927 when the First Division fixture between Arsenal and Sheffield United became the first football match to be broadcast live on the radio. Just three weeks after the BBC had received its Royal Charter which allowed it to broadcast coverage of major sporting events, Henry Wakelam became the first football commentator. In order to help the listener follow the play the Radio Times printed a numbered grid of the pitch with Wakelam giving grid numbers in his commentary. Arsenal's Charlie Buchan scored the first broadcast goal, the match ending 1-1 in front of a 16,831 Highbury crowd.
At the end of that season Arsenal were involved in another first with the first radio broadcast of an FA Cup Final. Cardiff beat Arsenal 1-0 in that final, on Saturday April 23rd 1927, to become still the only non-English side to win the competition.
Ten years later, on Thursday September 16th 1937, when television broadcasting was very much in its infancy Highbury again staged a notable first, the first live TV broadcast of a football match. This time it was an all-Arsenal affair with the first team playing the reserves in a match arranged to test the cutting-edge technology of the time. Not that many people saw it with only a few thousand TVs in the whole country at the time but, as they say, the rest is history........
The first attempt to offer the British TV public regular live League football started – and finished – on 10th September 1960 when ITV broadcast the Saturday evening fixture between Blackpool and Bolton. In 1953 those two clubs contested a famous Cup Final but by 1960 they were both struggling in the First Division and the fixture was missing its star player – Stanley Matthews – because of injury. It was a dismal match with poor TV ratings and the following Saturday (17th) Arsenal refused permission for their match against Newcastle to be televised as did Spurs the week after that (24th) for their match against Aston Villa. As a result ITV abandoned the project which was planned to last for 26 matches and nearly a quarter of a century passed before there was another live League match on British TV – Tottenham v Nottingham Forest - on 2nd October 1983.
*********
'Welcome to Match of the Day, the first of a weekly series on BBC 2. This afternoon we are in Beatleville....' So started the first Match of the Day which was broadcast on Saturday August 22nd 1964. Only the highlights of one match was shown - Liverpool v Arsenal - and it's audience on BBC2 was estimated at less than 100,000 because of the difficulty in tuning in to that channel at the time. Two years later it proved popular enough to move to BBC1.

*********
The first MOTDs were of course in black and white. The first colour transmission was on 15th November 1969 at Anfield when Liverpool beat West Ham 2-0. At the time colour TVs were still rare so the commentators had to ensure that their commentaries were suitable for viewers with either colour or black and white sets. That caused problems. John Motson once famously said "For those of you watching in black and white, Spurs are in the all-yellow strip" Colemanballs

*******
Yet another TV first for Arsenal came at the Emirates on Sunday January 31st 2010. Their 3-1 home Premier League defeat against Manchester United was the world's first live sports event to be broadcast in 3D. The experimental Sky broadcast was beamed to 9 pubs to test the technology and public opinion.
*******

So, what wouldn't you make freely available to an alcoholic ex-footballer about to appear in a chat show on live national television? I'm sensing that most of you have got the right answer -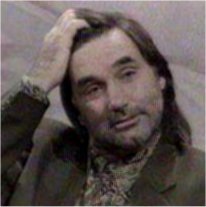 alcohol! Sadly those in charge of the hospitality area prior to George Best appearing on the Wogan chat show in September 1990 didn't think along the same lines. When Best appeared on set he was clearly drunk. What followed was certainly memorable television, although for all the wrong reasons. The conspiracy theorists have it that the BBC intentionally plied him with drink to get the outcome that would give a ratings boost to the Wogan show. Whatever the truth it resulted in a sad episode in the troubled life of a player of genius.
*********
"Welcome to Bologna on Capital Gold for England versus San Marino with Tennent's Pilsner, brewed with Czechoslovakian yeast for that extra Pilsner taste, and England are one down."
Jonathan Pearce on radio's Capital Gold showing where the economic realities are!
*********

Paul Gascoigne is another who should have been kept well away from alcohol before appearing on the box. To be fair when he made an appearance on Question of Sport alcohol was banned. But one of the team captains, Ian Botham, played one of his practical jokes on the footballer and convinced Gazza that Advocat was non-alcoholic and plied him with the drink. By the time Gascoigne realised that it was indeed very alcoholic he was past caring. Gazza and 'Beefy' were in the same team - they finished second!

*********

The biggest TV audience in British broadcasting history was for a football match. The British Film Institutes has estimated that the 1966 World Cup Final between England and West Germany had a TV audience of 32.3 million, 200,000 more than watched the second-placed event, Princess Diana's funeral in 1997. The next most watched football match was the 1970 FA Cup final replay between Chelsea and Leeds United played at Old Trafford. An estimated 28.49 million watched that one which ranks as the 6th most watched event in British TV viewing history, just ahead of Charles and Diana's wedding in 1981 but just behind the Apollo 13 splashdown in 1970.

*********

So, was it the formation of the Premier League in 1992 that did most to change the English game? Or was it the fact that in the same year Sky bought their first TV rights? In what seems like a bargain now they won the right to broadcast live Premier League games for five years for £304 million (later reduced to £190 million because of lack of foreign sales). The first match they televised was Nottingham Forest's 1-0 home victory over Liverpool on Sunday August 16th 1992, the second day of Premier League fixtures. Within 10 years Sky were paying over £1 billion for a three year deal and football was certainly never the same again!

*********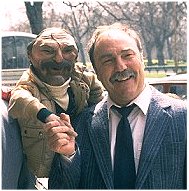 Jimmy Greaves perhaps became as well known for his catchphrase It's a funny old game! as he once was for his deadly goalscoring but it wasn't him who first coined the phrase - well not the real him anyway! From 1984 to 1996 Spitting Image was one of the top comedy shows on TV, featuring puppet caricatures of celebrities of the time with Greaves being one of them. Central TV had the idea of having the real Jimmy Greaves interviewed by his Spitting Image puppet and during the interview it was his puppet that first used the phrase. So perhaps not surprisingly it was the puppet who was the brains behind the phrase rather than the man himself. The voice of the puppet was provided by none other than Harry Enfield.
*********
Spurs made history in the 1960/61 season when they won the first League/FA Cup double of the 20th Century but their captain, Danny Blanchflower, had made history himself earlier in the season. On February 6th 1961 he became the first person to turn down an invitation from Eamonn Andrews to appear on BBC's This Is Your Life - and he did it live on air! He said 'I consider the programme to be an invasion of privacy.....nobody is going to press gang me into anything.'
*********
Seems a long time ago now but do you remember those pre-internet days when to find a latest score or a result the only way you could do it was to get the TV zapper out and go to Teletext?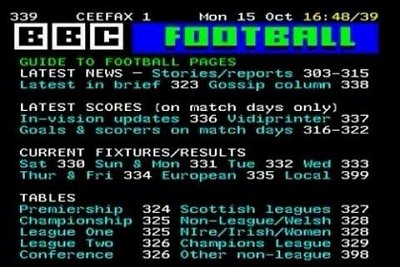 *********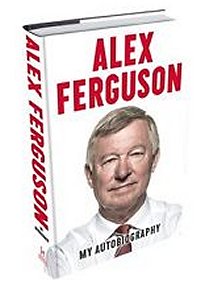 When Alex Ferguson retired from management he obviously used his time wisely as when his autobiography was published in October 2013 it became a record-breaking seller. By selling 115,547 copies of the book in its first week it became the UK's quickest selling non-fiction book since records began in 1998. Tony Blair's memoirs had only managed to sell 92,000 copies in its first week while even the top Royal best-seller was bettered - Paul Burrell's A Royal Duty only sold 77,000 copies. The only other football book in the top five at the time was David Beckham's autobiography My Side in number 4 spot with sales of 86,000 although to be fair the previous record holder, with 112,000 of first-week sales, did have a football connection. It was Delia, of Norwich City fame, with a cook book!
*********
It's not unusual to see football-related ads during the commercial breaks but few can really be called classics. Perhaps one of those few is the Ian Rush/who has ever heard of Accrington Stanley ad run by the Milk Marketing Board in the 1980s. An eight-year-old Carl Rice gave Accrington - who had dropped out of the Football League in 1962 - the sort of publicity they never had when they were in the League. Accrington invited Carl to be guest of honour at a match in 2006 and later the same year they won their place back in the Football League. Carl let slip that Accrington weren't the first choice of club names they planned using - the original plan was to use Tottenham Hotspur but that idea was dropped when Spurs objected. But Accrington Stanley was perfect..

*********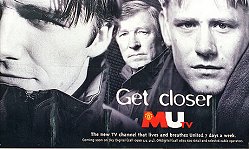 September 10th 1998 saw a new milestone in broadcasting when Manchester United launched the world's first TV channel dedicated to a single football club - MUTV. Originally jointly owned by the club, ITV and BSkyB it offered 6 hours a day of all things Manchester United for a monthly £4.99 subscription to a national audience. Now wholly owned by the club the hours soon went up to 18 a day and the audience has gone viral with most of the world taking the broadcasts. Launched with a message of 'Get MUTV, get closer to Manchester United' it was another step in global domination by the club brand with an estimated 659 million viewers in 2013. And it gave Fergie another broadcaster to fall out with!
*********
When Jimmy Hill had something to say it was generally worth listening to. So when he came out with these comments in his programme notes for a Coventry City match in 1965 something important was about to happen -
When Christopher Columbus was half-way across the Atlantic Ocean to America, he must have been wondering what he was going to find (he he had known, he might well have turned back). Legislators in soccer are looking at tonight's great new venture into the unknown with the same trepidation.

The great new venture was closed circuit television. The Second Division match between Cardiff City and Coventry City on Wednesday 6th October 1965 was transmitted to Coventry's Highfield Road ground and watched by the Coventry faithful on four giant screens. At the time about the only live football was the FA Cup final and the experiment was well received - 12,639 watched the 'real' match at Ninian Park while another 10,295 watched the televised screening. Because it was a black and white picture Coventry borrowed the stripped kit of Stoke City to help the viewers distinguish them from the Cardiff players.
The experiment continued and three months later London became involved when Millwall's match at Workington was beamed to The Den but the technology really took off in March 1967. On Friday 3rd March 1967 the First Division had its first CCTV match when Arsenal played Manchester United - 63,363 watched the match at Highbury and another 28,423 at Old Trafford for the screening. Just

over a week later the first FA Cup tie was screened with even more impressive attendances. An FA Cup 5th Round tie between Everton and Liverpool saw 64,318 at Goodison and another 40,619 a few hundred yards away for the screening at Anfield.

The late 60's also saw the likes of Chelsea, Leeds and Manchester United beam back pictures of away European matches to their respective home grounds. However despite giving large numbers of fans the opportunity of watching live away matches most would not normally have been able to travel to the idea never really took off. It never went away but I guess with the advent of all top matches now being shown on live TV the thought of watching matches from the armchair or at the pub was perhaps always going to be a better option than watching a big tele in the cold!.
At the time Closed Circuit TV was cutting-edge technology. Coventry's programme notes for the first CCTV match at Cardiff in 1965 gives an explanation of the science which they presumably expected to baffle everyone and this I have reproduced below. Just remember that the internet and mobile phones were science fiction in those far-off days!
How the picture comes to you tonight..
The picture you will see tonight will have travelled 300 miles through so many processes that the mind reels as the technical explanations are poured out. But let me try and describe this fascinating project in words we can all understand.
The story begins with three standard type cameras, each selecting a different picture, on the Cardiff Football Ground. The three pictures are seen simultaneously by the Director in charge of transmissions, in his operating coach behind the main stand at Ninian Park.
He chooses the particular picture he wants you to see at any given time and, as it were, sends it off to Coventry. The picture leaves Cardiff as a signal and the journey it takes is through a series of cables and reflectors. The cables run underground, the reflectors are on towers above the ground and the signal is bounced from one tower to another.
The route from Cardiff goes first to London through cable and six above-the-ground reflectors. From London it is fed into the G.P.O. trunk cable and received in Birmingham. From Birmingham the signal is transmitted and received by another reflector in Coventry and is bounced to yet another reflector, attached to one of the floodlighting towers, here on the ground. The signal is then fed into an amplifier, to increase the strength, and split into five sources - four to the projectors which supply the screens, and the other to the engineer, who is continually checking the line for quality and technical efficiency.
What happens to the signal when it enters the projector and how it produces the giant screen picture is well nigh incredible.
Briefly what happens is this. The electronic impulses of the amplified signal are shot through a film of oil. It is this fine film of oil that forms a transparency which in turn becomes the projected picture. The temperature of the oil must be kept constant otherwise the picture will smear.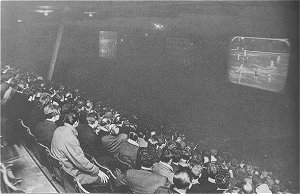 *********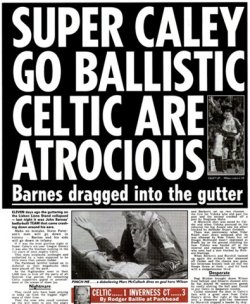 Supercalifragilisticexpialidocious. Now thats a word I have always wanted to include in a football-based website. Great for Google searches! I can include it because of, in my opinion, the most creative of all football headlines was a take on the name of that song in Mary Poppins. Super Caley Go Ballistic Celtic Are Atrocious was the headline in the Sun after an amazing result in the Scottish Cup. Part-time minnows Inverness Caledonian Thistle visited Parkhead and easily beat mighty Celtic 3-1 in a Scottish Cup Third Round tie played on Tuesday February 8th 2000. Celtic manager John Barnes and his assistants Terry McDermott and Eric Black lasted just two more days in their jobs with Kenny Dalglish becoming manager of the Glasgow giants.

Having got the above word out of the way I wondered how could I find find a legitimate footballing reason to include that famous Welsh village Llanfairpwllgwyngyllgogerychwyrndrobwyllllantysiliogogoch in the site? And then the answer came to me - humour! So here goes...
Two football fans from England were travelling through Wales to attend an away match. Feeling hungry, when they were passing through Llanfairpwllgwyngyllgogerychwyrndrobwyllllantysiliogogoch they decided to stop and get something to eat. One of them said to the waitress "Before we order, I wonder if you could settle an argument for us. Can you pronounce where we are, very, very, very slowly?" The girl leaned over and slowly said, "Burrr … gurrr … kinnnnnng."
Well it made me laugh!
*********
The Super Caley headline is probably the best-remembered humorous football headline but there have been many more. My two favourites? Back in the 1971/72 season Crystal Palace player Gerry Queen was sent off for fighting an opposing player - the newspaper headline was 'Queen in brawl at Palace'. In April 1979 Nottingham Forest drew 3-3 with Cologne in the first leg of their European Cup final with Cologne at the City Ground. The Germans' equaliser was scored by Japanese substitute Yasuhiko Okudera seconds after he had come onto the pitch with the headlines next day being 'Jap sub sinks Forest'.
*********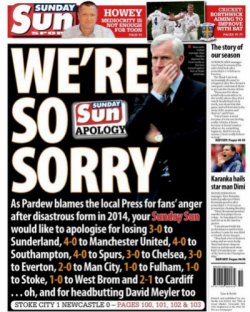 Things didn't go too well for Newcastle United manager Alan Pardew in the 2013/14 season. In March 2014 he hit the headlines when he head-butted Hull City player David Meyler in a Premier League match at the KC Stadium and received the harshest punishment in Premier League managerial history. A £100,000 club fine was followed by a £60,000 FA fine and a three-match stadium ban followed by a four-match touchline suspension. Newcastle's form was good enough at the start of the season but in the new year their form slumped and Pardew was at the wrong end of criticism from fans and local media. The club banned three local newspapers from St James' Park accusing them of 'unbalanced' coverage but one of them - the Sunday Sun - had something to say about that in a back-page headline. The moral of that - be very careful when you mess with the local press!
*********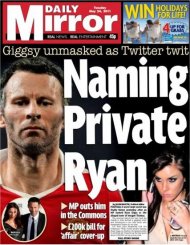 It's hardly rare for footballers to stray from their marriage vows and usually such news hardly merits much newspaper space. Unless, that is, they challenge the newspapers 'right' to report it. One footballer tried to do that and obtained a legal 'super-injunction' preventing anyone publishing details or even talking about his private life. Inevitably the secret was not kept and when Ryan Giggs was named by an MP in the House of Commons in May 2011 the publicity flood-gates opened with stories about his marriage infidelities. Instead of a small paragraph on page 34 alongside the news that Wayne Rooney had had a hair transplant Giggs had his name and story on every front page. It produced another brilliant headline with its take on the Saving Private Ryan film - Naming Private Ryan - and it was a long time before the papers let go!
*********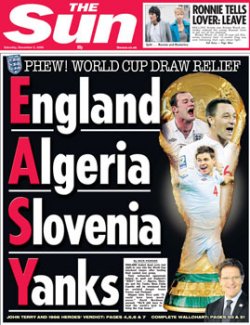 The Sun haven't always got it right with their 'clever' headlines. Following the draw for the 2010 World Cup finals in South Africa they made their instant decision on England's chances on the front page by naming each country in the group - England, Algeria, Slovenia, Yanks. And The Sun didn't stop there. In the sports pages the headline was 'The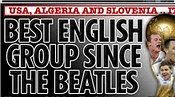 Best English Group Since The Beatles'. Those finals in South Africa were many things for England...but EASY was certainly not one of them!
*********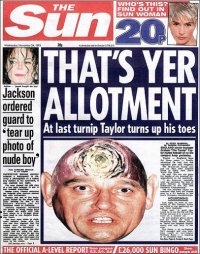 Graham Taylor must have wished that it was anyone but Sweden who eliminated England from Euro 92. The England manager had to put up with the Sun headline - Swedes 2 Turnips 1. And newspapers don't let go. A year later England had failed to qualify for the 1994 World Cup finals and Taylor resigned. The Sun kept to their horticultural theme when they reported on that resignation....



*********
There are some newspaper stories that you just know are written by a fan of the club being reported on. One of those headlines came in February 1961 when Manchester United were slaughtered 2-7 at Old Trafford by Sheffield Wednesday in an FA Cup tie. A Man City fan would have a field-day composing a headline after that result but it was obviously a Reds supporter who got the job. The headline in that evening's Manchester Evening News was United in nine goal thriller.
*********
Some stories are just made for the newspapers. In November 1990 Dr George Carey was about to become Archbishop of Canterbury and Jonathan Sacks was about to become Chief Rabbi. They were both good friends and passionate Arsenal supporters. It was decided that their first official ecumenical meeting would take place at Highbury and off they went together to see Arsenal's Rumbelows Cup tie with Manchester United. They were duly presented to the crowd and it was obvious if the power of prayer counted for anything then Arsenal were certainties to win. They didn't. In fact they were thumped 6-2 which was their worst home defeat since pre-war days. The papers obviously picked this up and a headline the next day read -
'If the Archbishop of Canterbury and the Chief Rabbi between them cannot bring about a win for Arsenal, does this not finally prove that God does not exist!'
Now that question was never going to be left unanswered and the Chief Rabbi answered it -
'To the contrary, what it proves is that God exists. It's just the He supports Manchester United.'
*********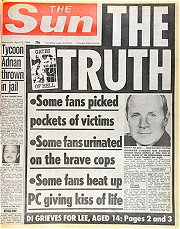 And last, but by no means least, not all football stories in newspapers are remembered for their humour. Back in 1989 after the Hillsborough disaster it would be difficult to imagine anything that could have made the tragedy even worse, but The Sun newspaper managed it. Their immediate post-match conclusion was that the tragedy - which was to claim 96 lives - was the fault of the Liverpool fans themselves. And that's what they put on the front page. That led to an unprecedented campaign on Merseyside against The Sun and the Establishment authorities in the belief that, even after the Taylor inquiry reported, the real reasons had been ignored. It wasn't until 2012, 23 years after the tragedy, that the truth finally came out and the Sun amended its front page from 1989. The 2012 editor of The Sun, Dominic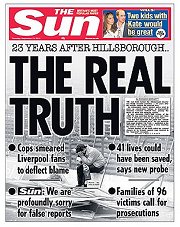 Mohan, said he was 'deeply ashamed and profoundly sorry' for what The Sun had to say in 1989. He said 'Twenty-three years ago The Sun newspaper made a terrible mistake. We published an inaccurate and offensive story about the events at Hillsborough. We said it was the truth - it wasn't.' Wouldn't it be great if two lessons were learned from that. First, newspapers should realise their stories are about real people and can cause real pain if inaccurate and second as a society how on earth can we find it acceptable to have to wait nearly a quarter of a century before the truth finally makes an appearance.