DID YOU KNOW.....
CLUBS SCORING 10 or MORE GOALS
in a LEAGUE MATCH
Football has a million and one stories and just as many facts and figures. Here are a few of them - the record-breaking, unusual and bizarre.
More Did You Knows...
Index
1 2 3 4 5 6 7 8 9 10 11 12 13 14 15 16 17 18 19 20
21 22 23 24 25 26 27 28 29 30 31 32 33 34

The highest score in a Football League match is 13 and that has been achieved three times.
The first was on Saturday 6th January 1934 when Stockport County beat Halifax Town 13-0 in a Third Division (North) fixture. It proved to be a disastrous League debut for the Halifax goalkeeper Stanley Milton, although he did keep the score down to 2-0 at half-time!
On Christmas Day 1935 Oldham Athletic beat Tranmere Rovers 4-1 in a Third Division (North) fixture. On Boxing Day the two met again in the return fixture at Prenton Park and this time Tranmere got the better of their rivals - they won 13-4! The 17 goals is still a record aggregate score for a League match and the 9 goals Robert 'Bunny' Bell scored for the home side - and he missed a penalty - was also a new Football League record.
But 'Bunny' Bell's record of scoring 9 League goals in the Tranmere v Oldham match lasted only until Monday April 13th 1936 when Luton Town's Joe Payne scored 10 in the Hatters' 12-0 victory over Bristol Rovers in a Third Division (South) match. (Joe Payne scores 10).
On Saturday 5th October 1946 Newcastle United became the third and last side to score 13 in a League match when defeating Newport County 13-0 in a Second Division fixture. It proved a perfect debut for Len Shackleton, the 'Clown Prince of Soccer', following his £13,000 move from Bradford Park Avenue to St James' Park. He scored six of the goals, including a hat-trick in just two and a half minutes.
*********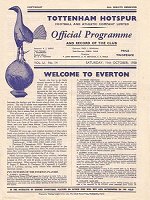 Bill Nicholson took over as manager of struggling Tottenham - his first ever managerial job - just a few hours before he saw them let in 4 goals against Everton in a First Division match at White Hart Lane on Saturday 11th October 1958. Not the best of starts you might think but what made it memorable was that Spurs scored 10, the first coming after three minutes and the tenth a couple of minutes before the final whistle. Leaving the pitch to thunderous applause one of the Spurs goalscorers, Tommy Harmer, had to remind his new boss 'We don't score ten every week, you know.'
And it certainly wasn't downhill from then on with Nicholson leading Spurs in the most successful period in their history. A League and Cup double in 1961, two more FA Cup victories plus two League Cup wins, a UEFA Cup victory, a European Cup semi and in 1963 they became the first English club to win a European competition - the European Cup Winners' Cup with a 5-1 final defeat of Atlético Madrid. The 10-4 victory over Everton didn't prove to be the top score by Spurs in his reign as manager, which lasted until August 1974. In 1960 they tonked Crewe Alexandra 13-2 in in an FA Cup 4th Round replay.
*********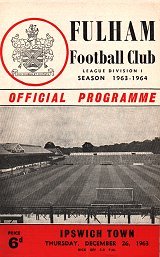 Fulham played Ipswich Town twice over the Christmas period in 1963 - at Craven Cottage on Boxing Day with the return at Portman Road a couple of days later, on Saturday 28th December. The programme notes in the second match at Ipswich stated - 'I can only hope that Ipswich kept up the good work against Fulham at Craven Cottage on Boxing Day. I am afraid that these notes had to be completed long before the result of that match was known so I can only keep my fingers crossed.' Nope, that didn't work, Fulham had won that first match 10-1 which was the last time that a club had scored double figures in the top flight.
*********
Burslem Port Vale became the first - and still only - club to concede 10 goals at home in a League match when they lost 0-10 to Sheffield United in a Second Division fixture on Saturday December 3rd 1892. They must have had nightmares about playing their next match a week later - this time away to Sheffield United - but they only lost that one 0-4.
*********

The record books show that Bournemouth's record League victory was a very impressive 8-0 away victory at Birmingham City in the Championship on 25th October 2014. However on Saturday September 2nd 1939 they did beat Northampton Town 10-0 in a Football League Third Division (South) fixture. However the next day war was declared on Germany and the few League matches that had been played in 1939/40 were declared void and expunged from the record books. Various reasons were offered for Northampton's heavy defeat. Unusually alcohol had been permitted on the rail journey, that 'ringers' had been fielded and simply that the Cobblers had not bothered because war was inevitable. The facts were though that on a quagmire of a pitch every Bournemouth shot seemed to result in a goal with the sixth goal being such a powerful shot not only did it burst through the net but injured a spectator behind the goal.
*********
Another club to lose what would still be a record score is Manchester United. Back in the days when they were Newton Heath their Bank Street pitch was far from the bowling-green surface they now enjoy at the Theatre of Dreams. In fact is was usually no more than mud and sand with the occasional tuft of grass! When Walsall Town Swifts arrived for a Second Division fixture on Saturday March 9th 1895 they immediately objected to the state of the pitch. Another layer of sand was added before kick off and the match was played under protest - with Newton Heath winning 14-0. However Walsall's protest was upheld by the Football League and the match was declared void and ordered to be replayed so the 14-0 scoreline ended up in the history books rather than the record books. The re-arranged match was played on Wednesday April 3rd 1895...with the Heathens only managing a 9-0 win that time!
United - sorry Newton Heath - may have seen the 14-0 result expelled from the record books but but their previous record which now ruled again was an impressive one. Newton Heath had joined the Football League at the start of the 1892/93 season and made a poor start to the League career not managing a win in their first six League matches - that run included a 6-0 reverse at Everton. Then in the seventh match they entertained Wolves at their North Road ground in Newton Heath - which was their home prior to the move to Bank Street - and won 10-1. That scoreline still ranks as their highest League score and the worst League defeat for Wolves. Newton Heath only managed five more League wins in 1892/93 and finished the season bottom of the table!
Link - all the tables and results of Manchester United in the Football League.

*********
Darwen hold the unfortunate record of conceding the most double-figure League defeats in a season. Back in 1896 they were good enough to score double-figures twice themselves (a 10 and a 12) but three years later they were at rock bottom and in the second half of the 1898/99 season lost three matches by a 0-10 scoreline. The Lancashire side set another unwanted record that season - the 141 Second Division goals they conceded (in just 34 matches) is still the worst goals against figure for a season in the Football League. Clubs conceding a century o f League goals in a season.
*********
A Football League investigation into the reasons behind Leicester Fosse's (now Leicester City) poor showing in their 12-0 defeat at Nottingham Forest in April 1909 found that the Leicester players had been celebrating the marriage of a team-mate for 2 days prior to the match! Full story.
*********
Perhaps over-indulging the day before a match is more common than the Forest v Leicester incident above. Of the 60-odd times that a side has scored double-figures in a League match there is one date that sticks out far more than any other - Boxing Day, yep the day after Christmas Day! Five times December 26th has seen a club conceded 10 or more goals in a League match and perhaps the Wolves' hangovers were particularly bad in 1919 when they lost a Division 2 match 3-10 at Hull City, on December 27th!
*********

Another favourite day for conceding double figures is the first away League match of the season. Stoke, Burnley, Rotherham United and Northampton have all let in 10 or more in their first away League match of the season and Torquay (twice) and Crystal Palace have suffered the same in their second away League match of the season.
*********
We are still waiting for the first club to score 10 goals in a Premier League match. The highest to date is 9 which has been recorded three times. On Saturday 4th March 1995 Manchester United beat Ipswich Town 9-0, on Sunday 22nd November 2009 Tottenham beat Wigan Athletic 9-1 while Leicester's 9-0 defeat of Southampton on Friday October 25th 2019 was achieved away from home. So dire was Wigan's defeat that the club immediately offered both an apology to their fans and a promise to refund the ticket price to the 500 or so fans who had bought tickets for the match at White Hart Lane. Wigan captain Mario Melchiot said 'We are professionals. We will take it on the chin and move on but it's important that we do not take our supporters for granted.' Good for him!
*********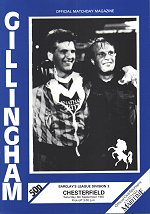 When Chesterfield visited Gillingham for a Division 3 fixture on Saturday 5th September 1987 they were hoping to maintain their excellent start to the season which had seen them not conceding a League goal in their first four matches. Gillingham, on the other hand, had recorded their second highest League score in their previous League match at the Priestfield Stadium, an 8-1 victory over Southend United. In the Gills Chat programme notes for the Chesterfield match they wrote....'you begin to wonder if the club has exhausted its quota of thrills for the season.' No, Gillingham beat Chesterfield 10-0.
*********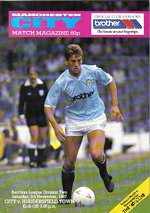 The last time that a club scored double figures in the League was on Saturday 7th November 1987 when Manchester City defeated Huddersfield Town 10-1 in a Second Division match. Paul Stewart, Tony Adcock and David White each scored hat-tricks for the home side. Former England international Malcolm Macdonald had only been appointed manager of Huddersfield the previous month. Things didn't get much better for him with Huddersfield finishing the season in a distant bottom place and Macdonald ending his managerial career at the same time.
*********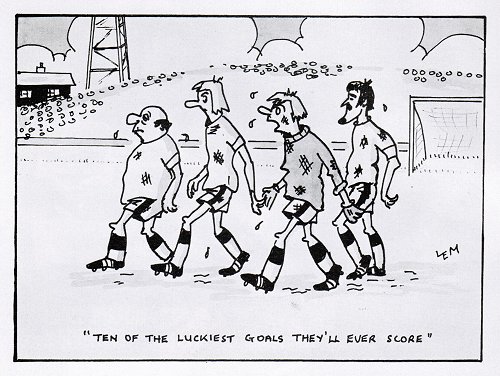 *********
To the matches themselves. Sixty-three Football League matches have ended with one of the sides scoring 10 or more goals. Two of the those matches (marked * , see above for reasons) were declared void and so are no longer in the official record. The matches -
1889/90
Sat
Sep
14
1889
Preston North End
10
-
0
Stoke
League
1891/92
Sat
Mar
12
1892
Aston Villa
12
-
2
Accrington
League
Mon
Apr
4
1892
WBA
12
-
0
Darwen
League
1892/93
Sat
Oct
15
1892
Newton Heath
10
-
1
Wolves
Division 1
Sat
Dec
10
1892
Burslem Port Vale
0
-
10
Sheffield United
Division 2
Sat
Dec
17
1892
Small Heath
12
-
0
Walsall Town Swifts
Division 2
1893/94
Sat
Mar
17
1894
Small Heath
10
-
2
Ardwick
Division 2
1894/95
Tue
Feb
26
1895
Notts County
10
-
0
Burslem Port Vale
Division 2
Sat
Mar
9
1895
Newton Heath
14
-
0
Walsall Town Swifts
Division 2*
Sat
Mar
23
1895
Ardwick
11
-
3
Lincoln City
Division 2
1895/96
Mon
Jan
13
1896
Darwen
10
-
2
Rotherham Town
Division 2
Tue
Feb
18
1896
Liverpool
10
-
1
Rotherham Town
Division 2
1896/97
Sat
Dec
26
1896
Darwen
12
-
0
Walsall
Division 2
1898/99
Sat
Feb
18
1899
Manchester City
10
-
0
Darwen
Division 2
Sat
Mar
4
1899
Walsall
10
-
0
Darwen
Division 2
Sat
Apr
1
1899
Loughborough
10
-
0
Darwen
Division 2
1899/00
Mon
Mar
12
1900
Woolwich Arsenal
12
-
0
Loughborough
Division 2
1900/01
Sat
Mar
2
1901
Small Heath
10
-
1
Blackpool
Division 2
1902/03
Sat
Jan
17
1903
Chesterfield
10
-
0
Glossop
Division 2
Sat
Apr
11
1903
Small Heath
12
-
0
Doncaster Rovers
Division 2
1908/09
Wed
Apr
21
1909
Nottingham Forest
12
-
0
Leicester Fosse
Division 1
1912/13
Sat
Oct
5
1912
Aston Villa
10
-
0
Sheffield Wed.
Division 1
1914/15
Sat
Jan
23
1915
Birmingham
11
-
1
Glossop
Division 2
1919/20
Sat
Dec
27
1919
Hull City
10
-
3
Wolves
Division 2
1925/26
Sat
Aug
29
1925
Aston Villa
10
-
0
Burnley
Division 1
Fri
Jan
1
1926
Sheffield United
11
-
2
Cardiff City
Division 1
1927/28
Sat
Nov
5
1927
Northampton Town
10
-
0
Walsall
Division 3 Sth
Sat
Jan
7
1928
Tranmere Rovers
11
-
1
Durham City
Division 3 North
1928/29
Sat
Aug
25
1928
Bradford City
11
-
1
Rotherham United
Division 3 North
Sat
Oct
20
1928
Leicester City
10
-
0
Portsmouth
Division 1
Sat
Jan
19
1929
Sheffield United
10
-
0
Burnley
Division 1
Sat
Mar
16
1929
South Shields
10
-
1
Rotherham United
Division 3 North
1929/30
Sat
Mar
15
1930
Norwich City
10
-
2
Coventry City
Division 3 Sth
Thu
Apr
10
1930
Newport County
10
-
0
Merthyr Town
Division 3 Sth
1930/31
Sat
Dec
13
1930
Huddersfield Town
10
-
1
Blackpool
Division 1
Fri
Dec
26
1930
Hull City
10
-
0
Halifax Town
Division 3 North
1931/32
Mon
Sep
7
1931
Fulham
10
-
2
Torquay United
Division 3 Sth
1933/34
Sat
Sep
2
1933
Luton Town
10
-
2
Torquay United
Division 3 Sth
Sat
Nov
18
1933
Middlesbrough
10
-
3
Sheffield United
Division 1
Sat
Jan
6
1934
Stockport County
13
-
0
Halifax Town
Division 3 North
Sat
May
5
1934
Barrow
12
-
1
Gateshead
Division 3 North
1935/36
Thu
Dec
26
1935
Tranmere Rovers
13
-
4
Oldham Athletic
Division 3 North
Sat
Feb
1
1936
Chester
12
-
0
York City
Division 3 North
Mon
Apr
13
1936
Luton Town
12
-
0
Bristol Rovers
Division 3 Sth
1936/37
Thu
Feb
4
1937
Stoke City
10
-
3
WBA
Division 1
1937/38
Thu
Jan
13
1938
Hull City
10
-
1
Southport
Division 3 North
Fri
Apr
15
1938
Wolves
10
-
1
Leicester City
Division 1
1938/39
Sat
Jan
14
1939
Hull City
11
-
1
Carlisle United
Division 3 North
1939/40
Sat
Sep
2
1939
Bournemouth
10
-
0
Northampton Town
Division 3 Sth*
1946/47
Wed
Sep
4
1946
Reading
10
-
2
Crystal Palace
Division 3 Sth
Sat
Oct
5
1946
Newcastle United
13
-
0
Newport County
Division 2
1948/49
Sat
Jan
15
1949
Notts County
11
-
1
Newport County
Division 3 Sth
1951/52
Sat
Sep
29
1951
Lincoln City
11
-
1
Crewe Alexandra
Division 3 North
Sat
Jan
19
1952
Oldham Athletic
11
-
2
Chester
Division 3 North
1958/59
Sat
Oct
11
1958
Tottenham Hotspur
10
-
4
Everton
Division 1
Sat
Apr
4
1959
Hartlepools United
10
-
1
Barrow
Division 4
1959/60
Sat
Nov
14
1959
Aston Villa
11
-
1
Charlton Athletic
Division 2
1961/62
Sat
Mar
3
1962
Wrexham
10
-
1
Hartlepools United
Division 4
1962/63
Wed
Dec
26
1962
Oldham Athletic
11
-
0
Southport
Division 4
1963/64
Thu
Dec
26
1963
Fulham
10
-
1
Ipswich Town
Division 1
Sat
Jan
25
1964
Doncaster Rovers
10
-
0
Darlington
Division 4
1987/88
Sat
Sep
5
1987
Gillingham
10
-
0
Chesterfield
Division 3
Sat
Nov
7
1987
Manchester City
10
-
1
Huddersfield Town
Division 2

*********

When you think of 'dodgy' results in European Leagues I would guess that your mind doesn't immediately spring to the German Bundesliga but back in 1978 there was indeed a dodgy result in Germany.

Going into the final day of League matches – Saturday April 29th 1978 - only two clubs were in with a chance of the Bundesliga title – defending champions Borussia Mönchengladbach and Cologne. The clubs were equal on points and both were expected to win their last match of the season meaning that goal difference would decide the destination of the title – and there Cologne had a ten-goal advantage. You just weren't going to put your life savings on Mönchengladbach retaining their title! But in front of 38,000 fans Mönchengladbach took the lead against opponents Borussia Dortmund in the first minute, by half time they were 6-0 up against their lacklustre opponents and the score at full time was 12-0.

That victory might have won Mönchengladbach the title but Cologne beat bottom club St Pauli 5-0 to become champions thanks to a better goal difference of 3 goals. For Dortmund though the result saw the manager sacked, the players fined and the German FA investigating the club for possible match-fixing. No charges were made although they were critical of the unsporting behaviour shown by the Dortmund players. The 12-0 result is still a record score in the Bundesliga.

*********

The last match of the regular League season in the 2013/14 Scottish Championship came lose to seeing another potentially 'impossible' turn-around in fortunes. Chasing the one automatic promotion spot to the Scottish Premier League the last Saturday – May 3rd 2014 – saw Dundee start the favourites with a two-point and an 8 goal goal-difference advantage over second-placed Hamilton Academical with both clubs expected to win their home matches. This Hamilton duly did, defeating Morton 10-2 to record the first double-figure in the Scottish League since Rangers beat Raith Rovers 10-2 on December 16th 1967. Dundee spoilt things though by beating Dumbarton 2-1 and so maintained their two point lead over the Accies. Hamilton did get their promotion place though that season with victory in the play-offs.

*********

Remaining north of the border Dundee only played two Scottish League matches in March 1947 - winning 10-0 away to Alloa Athletic on Saturday March 8th 1947 and in their next match they beat Dunfermline Athletic 10-0 at home on Saturday March 22nd.