DID YOU KNOW.....
THIS & THAT......
Football has a million and one stories and just as many facts and figures. Here are a few of them - the record-breaking, unusual and bizarre.
More Did You Knows...
Index
1 2 3 4 5 6 7 8 9 10 11 12 13 14 15 16 17 18 19 20
21 22 23 24 25 26 27 28 29 30 31 32 33 34
They say that London is a city of two hundred languages and two million immigrants. Add to that some decent football grounds, great communications with the rest of the world and seemingly footballers of every nationality plying their trade in Britain. The result is that Britain - and London in particular - has become the natural home for far-off countries wanting to stage friendly internationals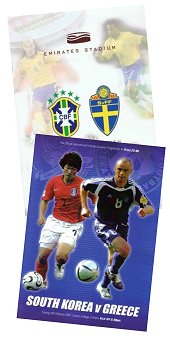 without making the long trip home. Mighty Brazil, for example, established a second home in north London playing their first match at the Emirates Stadium (against Argentina) when Arsenal themselves had only played one Premier match at their new home.
On the Tuesday February 6th 2007 London set a new world record when four full internationals were played in the city on the same evening - and none involved England with the new Wembley still not completed. Brazil were at the Emirates again, playing Portugal, while Ghana v Nigeria was played at Griffin Park (Brentford), South Korea v Greece at Craven Cottage (Fulham) and Australia v Denmark at Loftus Road (QPR). Brazil's match was the only one sold-out but the TV audiences were impressive - an estimated 300 million worldwide watched Brazil v Portugal and another 100 million in Africa watched Ghana beat Nigeria 4-1.
*********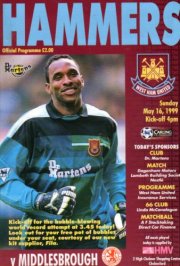 West Ham United were one of the first clubs to have a club anthem having adopted 'I'm Forever Blowing Bubbles' in the 1920's. In 1999 that association saw the Hammers set a new world record. With each fan attending West Ham's last Premier Division match of the 1998/99 season, against Middlesbrough at Upton Park on Sunday May 16th 1999, being given a bubble-blowing pot by kit supplier Fila, 23,680 of them blew bubbles for 1 minute to get into the Guinness Book of World Records.





*********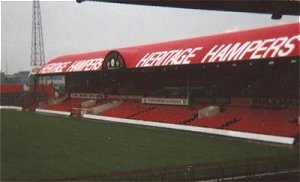 Another of the more bizarre records held by football clubs went to Middlesbrough in the late 1980's. They asked the club sponsors at the time, Heritage Hampers, if they would repaint the North Stand at their old Ayresome Park Ground. This they agreed to do provided they could paint the name of their company on the roof - so two giant 'Heritage Hamper' signs with 11 foot high lettering appeared on the roof. That made the roof of the stand an advertising hoarding and being 85ft wide and nearly 300ft long it was recognised by the Guinness Book of Records as the largest advertising hoarding in the country!
*********
"Things were so much easier when I earned £100 a week."
Wolves midfielder Jamie O'Hara - who was reported to earn £35,000 a week at the time - in a Twitter posting in December 2012. I'm sure we all sympathised with him!
*********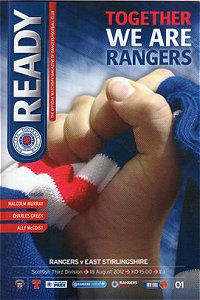 The attendances in the Third Division of the Scottish League for Saturday August 18th 2012 proved interesting reading - 512 (at Annan Athletic), 401 (Clyde), 631 (Elgin City), 498 (Queen's Park) and 49,118 at Rangers for their match against East Stirlingshire. It was the first League match that the newly demoted Rangers had played at Ibrox in the lowly surroundings of the fourth tier of Scottish football and set a new world record attendance for a match in the fourth tier of a League competition. Rangers went on to break that record several times that season with their top League attendance being at their final match of the 2012/13 season, 50,048 against Berwick Rangers. Before Rangers set the record the previous fourth tier best was set in England on 31st March 1961 when 37,774 were present at Selhurst Park for a Crystal Palace v Millwall Football League Fourth Division fixture.
*********

Gordon Strachan is always good for a quote. One has reached almost legend status, his comment on Eric Cantona's trawler and seagulls quote - 'If a Frenchman goes on about seagulls, trawlers and sardines, he's called a philosopher. I'd just be called a short Scottish bum talking crap.' However reporters beware because if you ask him a silly question you are liable to get a quote you hadn't anticipated....
Reporter:
'Bang, there goes your unbeaten run. Can you take it?'
Strachan:
'No. I'm just going to crumble like a wreck. I'll go home, become an alcoholic and maybe jump off a bridge. Um, I think I can take it, yeah.'
*****
Reporter:
'So, Gordon, in what areas do you think Middlesbrough were better than you today?'
Strachan:
'What areas? Mainly that big green one out there!'
*****
Reporter:
'This might sound like a daft question, but you'll be happy to get your first win under your belt, won't you?'
Strachan:
You're right. It is a daft question. I'm not even going to bother answering that one. It is a daft question, you're spot on there.'
*****
Reporter:
'Gordon, you must be delighted with that result?'
Strachan:
'You're spot on. You can read me like a book!'
*****
Reporter:
'Any changes?'
Strachan:
'Naw, still five foot six, ginger hair and a big nose'
*****
Reporter:
'Gordon, do you think James Beattie deserves to be in the England squad?'
Strachan:
'I don't care, I'm Scottish.'
*****
Reporter:
'You don't take losing lightly, do you Gordon?'
Strachan:
'I don't take stupid comments lightly either.'
*****
Reporter:
'Welcome to Southampton Football Club. Do you think you are the right man to turn things around?'
Strachan:
'No. I was asked if I thought I was the right man for the job and I said 'No, I think they should have got George Graham because I'm useless.'
*****
Reporter:
'Gordon, can we have a quick word please?'
Strachan:
'Velocity' and he walks away!

*********
Brian Clough was one of those unpredictable characters. Prior to the 1980 European Cup final in Madrid Cloughie ordered Garry Birtles off the bus taking the team from their hotel to the match and insisted he had a shave. So was that due to Clough's hatred of scruffiness or was it as Birtles thought 'He could see I was nervous and wanted to take my mind off the game'. I wonder!
Cloughie Quotes
*********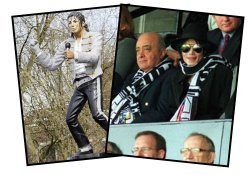 It's not unusual nowadays to come across a statute commemorating a famous player or manager but a statute of a fan is just a bit unusual. Especially of a 'fan' who only ever saw the club play once! Singer Michael Jackson was a friend of former Harrods and Fulham Football Club owner Mohamed Al-Fayed and 'Wacko Jacko' was a guest of Al-Fayed at Craven Cottage for the Division 2 match against Wigan on Saturday April 10th 1999. He didn't buy a season ticket but 12 years later, almost to the day - Sunday April 3rd 2011 - before a Fulham v Blackpool Premier League match, a statute of Michael Jackson was unveiled at Craven Cottage. To say it wasn't universally popular was a bit of an understatement and the owner didn't do much to build bridges with critical real fans when he said:
| | |
| --- | --- |
| "If some stupid fans don't understand and appreciate such a gift this guy gave to the world they can go to hell. I don't want them to be fans. If they don't understand and don't believe in things I believe in they can go to Chelsea, they can go to anywhere else." | |
Shahid Khan bought Fulham from Mohamed Al-Fayed in July 2013 and by the end of September of that year the statue was taken down and returned to Al-Fayed.
*********
Michael Jackson at Fulham...but I guess in the hierarchy of celebrity visits Cardiff City had the better of Fulham. Back in 1982 shortly after visiting Wembley, Cardiff City's Ninian Park had a visit from.... The Pope! No, not to watch the Bluebirds play - June 2nd 1982 was in the close-season - but to preach to the faithful, over 30,000 attending a National Youth Rally to hear the Polish Pope John Paul II speak. And no, he didn't get a statue!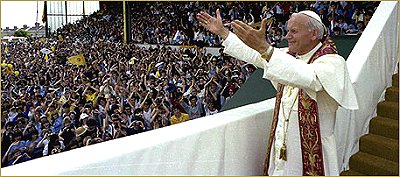 *********

After his ultra-defensive side had lost a terrible match 2-0 at Arsenal in September 1980 Stoke City manager Alan Durban came out with one of those memorable quotes - 'If you want entertainment go out and watch a bunch of clowns'. But the real clowns were whose who were serving up that poor entertainment which was seen as the main reason for the decline in attendances which hit the clubs were it hurt them most - their bank balances! Something had to be done to liven up the game with the solution being seen as upping the points for a League win from two to three. It was hoped that the change would be the encouragement needed for teams in matches heading for a draw to go all-out for victory for the two extra points which would outweigh the prospect of losing one point with a late defeat. The rule change started in the 1981/82 season which meant for the first time it was possible for clubs to pick up a century of points in a League season. These are the clubs who have achieved that -
| | | | |
| --- | --- | --- | --- |
| Season | Club | Division | Points |
| | | | |
| 1983/84 | York City | Division 4 | 101 |
| 1985/86 | Swindon Town | Division 4 | 102 |
| 1998/99 | Sunderland | Division 1 | 105 |
| 1998/99 | Fulham | Division 2 | 101 |
| 2000/01 | Fulham | Division 1 | 101 |
| 2001/02 | Plymouth Argyle | Division 3 | 102 |
| 2002/03 | Wigan Athletic | Division 2 | 100 |
| 2005/06 | Reading | Championship | 106 |
| 2009/10 | Newcastle United | Championship | 102 |
| 2011/12 | Charlton Athletic | League 1 | 101 |
| 2013/14 | Leicester City | Championship | 102 |
| 2013/14 | Wolverhampton W. | League 1 | 103 |
| 2016/17 | Sheffield United | League 1 | 100 |
| 2017/18 | Manchester City | Premier | 100 |
| 2022/23 | Burnley | Championship | 101 |
| 2022/23 | Plymouth Argyle | League 1 | 101 |
| | | | |
*********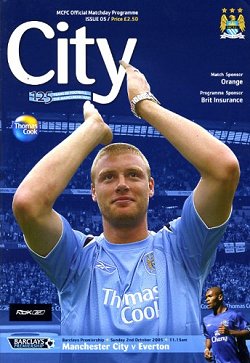 Perhaps I'm too much of a traditionalist but for me weekend football should kick off at 3 o'clock on a Saturday afternoon but the demands of television have seen an assortment of KO times develop over both days of the weekend. Television dictated the earliest kick-off in Premier League history on Sunday October 2nd 2005 at the City of Manchester Stadium when Manchester City were desperate for TV income. Their match against Everton was screened on PPV (pay per view) TV and kicked off at 11.15 on the Sunday morning in front of a 42,681 crowd. TV also dictated the kick-off time of the 2008 Champions League final between Manchester United and Chelsea in Moscow. Us armchair fans saw the match kick off at 7.45 which was perfect for the British and western European TV audience. But the match was played in Moscow and 7.45 for us was 10.45pm local time in Russia. When extra time was over and the penalties were taken it was 1.30 in the morning in Moscow, and the cup still had to be presented!
But TV couldn't be blamed for the earliest kick off in senior football in England - it happened in 1892! Football League side Burton Swifts were double-booked on Saturday 1st October 1892 - a Second Division match at Crewe Alexandra and a home FA Cup Preliminary Round match against Singers of Coventry (a forerunner of Coventry City). They solved the problem by bringing forward the cup tie to the previous Wednesday - with an 8am kick off, yes that's 8 o'clock in the morning! Swifts won 3-0 although there is no record of the attendance!
Many a match has had a delayed kick off because of the late arrival of the visiting team - back in 1961 a nightmare journey led to an abandoned Football League match between Barrow and Gillingham (abandoned matches). Over 50 years later in what was an almost identical journey Ebbsfleet United travelled to Barrow for a Conference match, the team coach leaving Kent at 10.45am on the morning of the match (Wednesday 3rd April 2013) for a 7.45pm kick off in Cumbria. They were soon delayed by an accident on the M25 and then a serious delay on the M6 when a lorry shed its load of baked beans. Ebbsfleet finally arrived at the ground at 8.40pm with kick off being put back to 9.15 and the final whistle in the 1-1 draw being blown a little after 11 o'clock. Then it was back on the coach and a 300-mile plus journey home for Ebbsfleet. The joys of being a footballer!
However the prize for the craziest kick off time must surely go to Barcelona when they entertained Sevilla in a Spanish La Liga fixture in September 2005. The match was scheduled for Wednesday 3rd September which was the day they had to release many of their international players to their countries for a weekend of international fixtures. Not wishing to play with a weakened team Barcelona tried to get the date brought forward to the Tuesday, without success, but what they did control was the kick off time. So they decided to kick off on the Wednesday at 12.05am - 5 minutes past midnight - in the hope that all their star players could play, get a reasonable night's sleep and then leave to join their international squads on the Wednesday morning as the rules required. That ploy wasn't a complete success as far as team selection was concerned but the match was a success. Attracted by the novelty of the fixture, cheaper tickets and free snacks an amazing 80,237 turned up at the Nou Camp to witness a 1-1 draw.

*********
In January 2013 Swansea City had beaten European champions Chelsea in the first leg of the League Cup semi-final 2-0 at Stamford Bridge and so were on the verge of their first major cup final. Then came the second leg and the headlines were all about...a ball boy! When Swansea ball boy Charlie Morgan apparently slipped and fell on the ball and was seemingly kicked by Chelsea's Eden Hazard who was trying to retrieve the ball few had any sympathy for Hazard when he was red-carded. Twenty-four hours later sentiments had changed. Endless TV replays seemed to suggest that Morgan grabbed hold of the ball and wasn't going to let it go and that Hazard had kicked the ball rather than the boy (or youth, he was 17). It emerged that Morgan had tweeted before the match that he would waste time if that was needed. Then, worst of all, Morgan was 'exposed' as the son of a Swansea director and was an heir to a £43 million fortune. The newspapers had the ball boy as living a more affluent lifestyle than the Chelsea superstars so there wasn't going to be much sympathy there! What happened? Well, Charlie Morgan became a Twitter sensation with his followers increasing from 400 before the match to nearly 90,000 immediately after it...and Swansea drew and went through to the Wembley final.
Link - League Cup results 2012/13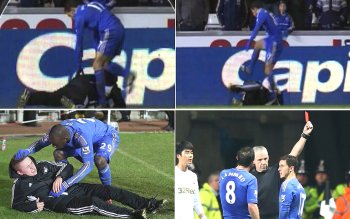 *********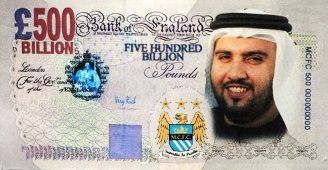 There was a time when a local solicitor or butcher brought welcome financial strength to the Board of Directors of football clubs. Then came the millionaires, then the multi-millionaires and then finally the billionaires. It now seems you can't have a successful club unless you have a billionaire owner, the odd hundred million in the back pocket just isn't enough. Manchester City acquired their billionaire owner in 2008 in Sheikh Mansour bin Zayed Al Nahyan of Abu Dhabi. City fans commemorated the event with these fake £500 billion notes and sat back waiting for the money to be spent and success to arrive. OK, £500 billion as his wealth was a tad optimistic but it is believed his piggy bank was a lot better financed than the owners of Chelsea or Manchester United and so, four years after taking over, City won their first League Championship in 44 years.
*********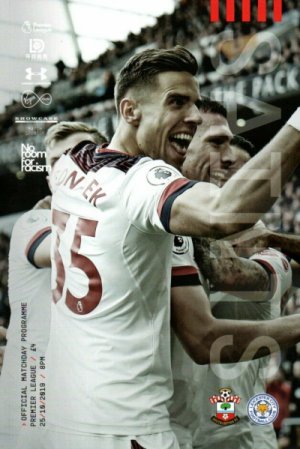 Some results are just unbelievable - one of those was Leicester's Friday night 9-0 Premier League victory at Southampton on October 25th 2019. OK, Leicester were showing the sort of form which brought them that unexpected Premier League title in 2016....but a 9-0 away win! That result was the record Premier Division away scoreline and equalled the highest ever Premier Division score, equalled the highest top flight away score and also equalled the highest Premier League winning margin.
Twice previously clubs had scored 9 in the Premier League - Spurs beat Wigan 9-1 at White Hart Lane on 22nd November 2009 while Old Trafford hosted Manchester United's 9-0 defeat of Ipswich on 4th March 1995. The previous best Premier League away win was Nottingham Forest 1 Manchester United 8 on 6th February 1999.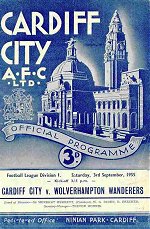 The previous record away victory in the top flight (First Division/Premier League) was jointly held by Sunderland who won 9-1 at Newcastle on Saturday December 5th 1908 and Wolves who won 9-1 at Cardiff City on Saturday September 3rd 1955.

The Newcastle defeat was particularly embarrassing being against neighbours Sunderland in front of a 56,000 St James' Park ground. Amazingly the scoreline was 1-1 at half-time and the defeat was the biggest suffered by a club who were to win the League title in that season.

*********
Fulham must wonder why they bother going to Goodison Park to play Everton. When the Londoners lost 3-0 at Everton in a Premier League match on Saturday September 29th 2018 it was the 22nd time in a row that Everton had beaten Fulham in a League match at Goodison Park. In fact Fulham have never won at Everton in the League with the last time Fulham avoided defeat at Goodison when League points were at stake being back in the 1959/60 season when it was 0-0.
*********
While at Liverpool Neil 'Razor' Ruddock didn't get on with Manchester United's Eric Cantona - but in later years he was to have 15,000 reasons to thank him. Cantona scored the winning goal for United against Liverpool in the 1996 FA Cup Final and exchanged shirts with Liverpool captain John Barnes after the match. Disappointed by the result Barnes threw the number 7 shirt on the dressing room floor and Ruddock - who hadn't played in the match or been a sub - asked to keep it to make up for the disappointment of not taking part in the Wembley final. He did keep it - well until May 2013 when he sold it at auction - for £15,000.
*********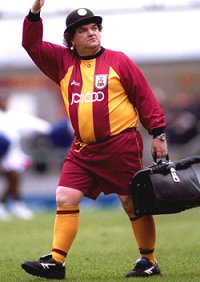 You would have thought that in any walk of life somebody losing 7 stone to combat the effects of diabetes would be congratulated. Not so in football. In 2013 Lenny Berry lost his job after nearly 20 years as the Bradford City mascot 'City Gent' after dropping from 17 stone to 10 stone. He was told that was too thin and 'no longer matched the original concept' of the City Gent who is a rather 'rounded' figure in a bowler and with briefcase and based on a former club chairman, Stafford Heginbotham. Lenny, pictured in his more rotund days, said 'I'm absolutely gutted. I am a grown man and this is something I have cried over. I used to have supporters chant things at me, like 'who ate all the pies?'
*********
The records show that if Tottenham had won their last Premier League match of the season in 2005/06 they would not only have finished one place above Arsenal but would also have pipped their great rivals to the fourth Champions League place. Sadly for Spurs they were not only up against West Ham in that final match but also a far more troublesome opponent. Spurs stayed the night before the match at the five-star Marriott Hotel in Canary Wharf and enjoyed an evening meal of lasagne. That enjoyment turned to horror during the night when practically the whole squad became violently sick with suspected food poisoning. There was one place every suffering player wanted to be - and that wasn't playing a Premier League football match! Without a great deal of guidance from the Premier League authorities Spurs considered postponing the match but fearful of a points deduction (as happened to Middlesbrough in 1996/97) decided against it. West Ham were happy for the kick off to be put back from 3 o'clock to 7 but the police were against that fearing the consequences of the extra drinking time. So the match kicked off as scheduled at 3 and although Spurs put up a good fight the match ended in a 2-1 West Ham victory and Arsenal - who played their last match at Highbury that day - had got the better of Tottenham yet again.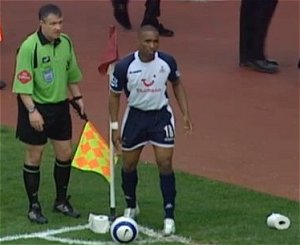 But the conspiracy theorists had a field day checking the Marriott kitchen staff to see if any were related to Arsene Wenger, the police were called and samples taken and Spurs tried to get the match replayed, all to no avail. But as disappointed as Spurs were they must have been pleased by the sporting attitude of the West Ham fans. The Hammers faithful knew exactly what the Spurs players needed and were happy to provide it to them, see picture!
*********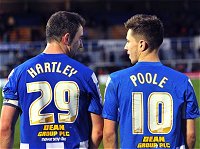 After Peter Hartley and James Poole each scored a goal for Hartlepool against Notts County on Saturday February 2013 their shirts were put up for auction with £1000 being raised for the club's Youth Development Fund. Got it - Hartley and Poole score for Hartlepool!
*********
The busiest turnstiles in English football were at Manchester City's Maine Road ground in the 1946/47 season when Old Trafford was closed due to wartime bomb damage and City shared their ground with Manchester United. Attendances were generally high in the first post-war League season but particularly so in Manchester where City finished as Second Division champions and United were runners-up in the First Division. When those crowds were added to the numbers who attended an England v Wales international, an FA Cup semi-final and the Wigan v Dewsbury Rugby League Championship play-off final played at the ground some two and a quarter million attended fixtures at Maine Road, a record for any English football ground.
*********
There can even be humour when it was announced that Wayne Rooney would be earning £300,000 a week -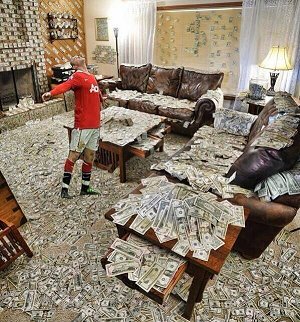 *********
After a dire 2-0 defeat at Arsenal in September 1980 a journalist told Stoke City manager Alan Durban that there was no entertainment value in watching his Stoke side play. Durban replied...
"If you want entertainment go and watch a bunch of clowns."
I think that many managers since would say exactly the same if they were being honest!
*********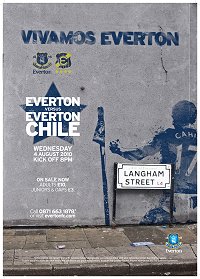 One export that Britain has supplied to every corner of the world is football. In 1909 a group of teenagers in Chile formed a football club and named it Everton after our Everton who had toured South America that year. The South American Everton have proved to be one of the top sides in Chile, winning the national championship four times. In August 2010 the South American side made a pilgrimage to Goodison Park as a delayed part of their centenary celebrations to play a unique match...Everton v Everton. The English Everton beat the Chilean Everton 2-0 to win the Brotherhood Cup in a match that was shown on live TV in Chile.
*********
Back in 2011 the supporters of Turkish side Galatasaray were known as the loudest fans in the world. On 18th March 2011 in a local derby against Fenerbahçe at their Türk Telekom Arena in Istanbul a peak noise level was recorded of over 131 decibels. In England a noise survey was held in the 2010/11 season and found that Liverpool fans were the loudest at 97 decibels followed by Manchester United at 94 decibels and Aston Villa on 89. As a comparison continued exposure of noise at the 90 decibel level can result in hearing loss, the pain threshold is about 115 decibels while the noise from the Galatasaray crowd is about the same as listening to a jet engine 100ft away.
*********
They say that when you look back in footballing history the thing that seems to have changed the most are the player transfer fees. But I say give a thought to the changes in season tickets. Back in pre-war days I'm sure the lady who owned this West Ham United season ticket had a very special place for it in her handbag. And in those pre-equality days Ladies seasons tickets were cheaper than those for the Gentlemen!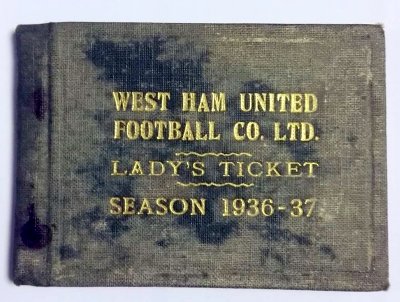 Moving on to the 1981/82 season the prices of those season tickets seem amazing given that you need to take out a mortgage to buy them nowadays. In an advert in a Leeds United programme that season the most expensive seats were £4 a match - the cost of a programme nowadays - with a season ticket for the 21 League matches at Elland Road going for £53.50. You could stand in those days - at £1.50 a match - with a standing season ticket setting you back £25.50. Those were the days!